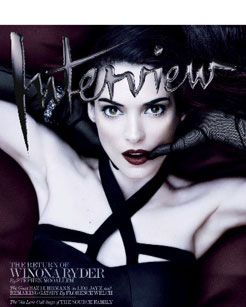 Photo: Courtesy of Interview
Winona Ryder — perhaps the original teen queen who later found herself pampering up for courtroom appearances —  is now sprawled out on the cover of Interview magazine's March issue with bold red lips and an Armani dress. She still looks like the Wino of the nineties, with her large brown eyes and milky complexion, but the Q&A also captures her unchanged voice: that quick-talking, almost anxious, descriptive tone that made her endearing as the dark but smart heroine in films like Heathers, Edward Scissorhands, and Reality Bites.
Ryder, now 41, is set to appear in two films this year (Homefront and The Iceman), and will gradually reenter the film world that's changed drastically since she was a kid. She lives in both Brooklyn and San Francisco (with a small place in Los Angeles) and is now playing roles where she has kids — not plays one herself. In a chat with the magazine's editor-in-chief, Stephen Mooallem, Ryder discusses everything from nineties nostalgia, being a child actor in the late eighties and nineties, being "unusual looking," and genuine excitement about the new wrinkles on her forehead. She even mentioned past flame Johnny Depp briefly ("Thank god that Johnny [Depp] did Cry-Baby [1990]"). Read on for some of the best moments from the chat.
On becoming friends with actors from her younger years:
It's interesting running into people I'm really close with now, but when I worked with them when I was younger … Like Gary Oldman, who I love and who is truly one of my favorite actors. I've always thought that about him, but when we worked together [on Bram Stoker's Dracula, 1992], he was going through kind of a hard time. He was going through a divorce but he's been sober for a long time now, and he's raised three kids, and he's a dream. He's a good friend of mine now. Ethan Hawke is another person who I love—and by the way, I didn't dislike him when I was working with him [on Reality Bites]. It wasn't like that. We were just at that age, and everyone was telling us how great we were all the time, so we were sort of buying into it a little bit. But then you get older and you kind of … I'm not saying you cringe, but you're like, "Oh, god." So I think back on those years, and I do remember them as fun.
On being told by the industry that she was "not pretty enough":
I was unusual looking—I didn't have the look of that time. If you look at Lucas—and, basically, my first five or six movies—the characters are not described in the scripts as attractive people. So I scored in the sense that if I hadn't done those, I don't know that I would've been cast in other things, because I wasn't really considered a beauty … I remember one time in particular. I was in the middle of auditioning, and I was mid-sentence when the casting director said, "Listen, kid. You should not be an actress. You are not pretty enough. You should go back to wherever you came from and you should go to school. You don't have it." She was very blunt—I honestly think that she thought she was doing me a favor … I was around 15 or 16. But it's funny—and this is a testament to my parents and how they raised me—I wasn't crushed. They had always instilled in me that it was way cooler to be an individual and to be unique and that you don't want to blend in.
On embracing aging:
It's funny, because I went straight from the Interview shoot to this premiere, and I still had on all the makeup, and my friend told me that some people were literally saying that I'd had work done—which, by the way, I've found is like normal hygiene now on sets. I'm not trying to knock it, but, you know, I have a little bit of traffic now on my forehead—which I'm like very proud of actually—and it's interesting how people just instinctively are like, "Oh, maybe you should get something done for that." And it's like, "Really?" So I'm excited about this new phase.
She's still got it.