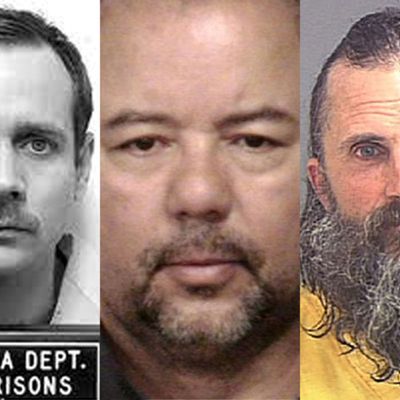 The lawyer for freed Cleveland captives Michelle Knight, Amanda Berry, and Gina DeJesus said last week that he may seek the death penalty against Ariel Castro on the grounds of his alleged forced abortions. After repeatedly raping and impregnating Knight, police sources said, Castro would starve and beat her until she miscarried. Pro-life types have already been using the possible murder charge to suggest abortion is immoral, but most states, including Ohio, recognize forced miscarriage as a crime (though the laws are increasingly used to prosecute women who lose fetuses in suicide attempts and due to drug addictions). Legal experts told Reuters that the case would be hard to prove without medical records, meaning Castro's brother Onil, who told ABC he hopes "he rots in that jail," might get his way after all. Indeed, Castro would be the first of his kind — men, with a history of sexual violence and religious delusions, who abduct young women and hold them as captives and wives for years on end — to receive the death penalty. Although their crimes stand out for their duration, cruelty, and often insanity, their trials end quietly, with life sentences in maximum security prisons, as their victims, like Jaycee Dugard and Elizabeth Smart, go on to cover People and write memoirs. Here's what happened to other Ariel Castros.
Phillip Garrido
Crime: In 1991, Garrido, then a convicted rapist, abducted 11-year-old Jaycee Dugard on her way to the schoolbus stop. He raped and held her captive for more than eighteen years, fathering two children with her and employing her as a graphic designer for his print shop while penning a manifesto on how other sex offenders could be cured through his "God's Desire" church.
Punishment: Garrido and his wife pleaded guilty to kidnapping and rape. An earlier rape victim of Garrido's appeared in the court room, but did not speak. Phillip was sentenced to 431 years imprisonment; Nancy got 36 to life. Additionally, Dugard was awarded $20 million by the State of California for the lapses by the parole officers assigned to Garrido. Dugard did not appear at the sentencing, but had her mother read a written statement. "I chose not to be here today because I refuse to waste another second of my life in your presence," it read, in part. "Both of you can save your apologies and empty words. For all the crimes you have both committed I hope you have as many sleepless nights as I did."
Wolfgang Přiklopil
Crime: Austrian Přiklopil kidnapped 10-year-old Natascha Kampusch on her way to school in 1998. He kept her in a cellar beneath his garage and, later, his home until she escaped in 2006, when he left her alone to take a phone call. (In light of Cleveland, the Guardian has extracted her 2010 book about the aftermath.)
Punishment: When Přiklopil, 44, found out the police were after him, he threw himself in front of a train outside Vienna.
Josef Fritzl
Crime: Fritzl kept his daughter Elisabeth imprisoned in his basement for 24 years, starting in 1984, when she was 18. He had seven children with her, one of which died in infancy. Fritzl brought three upstairs and presented them to his unwitting wife as children Elisabeth had abandoned at the house before returning to the religious cult she had joined.
Punishment: Fritzl, 73, was charged with incest, rape, coercion, false imprisonment, enslavement, and negligent homicide. Before trial, he spoke with a local news magazine about his Nazi upbringing and abusive mother — possibly with the hopes of laying down the groundwork for an insanity plea. He pleaded guilty to all charges except murder, but changed his plea after spotting Elisabeth, who had given her testimony over video, sitting in court in disguise. In 2009, he was sentenced to life in a prison for the criminally insane, with the possibility of parole after fifteen years. His wife Rosemarie was never charged.
Brian David Mitchell
Crime: In 2002, Mitchell abducted 14-year-old Elizabeth Smart, whose family had employed him for odd jobs. He repeatedly drugged and raped her over nine months.
Punishment: After Smart was recognized in public, Mitchell and wife Wanda Barzee were arrested and charged with aggravated kidnapping, aggravated sexual assault, and aggravated burglary. Barzee pleaded guilty to her part in Smart's kidnapping — after having her trial delayed twice due to incompetence and being forcibly medicated with antipsychotics — and was sentenced to fifteen years in prison, which she is still serving. After three competency hearings, during which he sang Mormon hymns, Mitchell was deemed an "effectively misleading psychopath," found guilty, and sentenced to life in prison without parole. Despite attempts by his lawyer to have him placed in a mental health facility, he is currently serving his sentence in a high-security federal prison in Tucson.
Marc Dutroux
Crime: Belgium's most famous serial killer, Dutroux had already served three years of a fifteen-year sentence for rape and abduction and was on parole when he kidnapped and molested six more girls, between the ages of 8 and 19, in 1995 and 1996, only two of which survived. Julie Lejeune and Melissa Russo, both 8, starved to death in his basement. Another two, An Marchal, 17, and Eefje Lambrecks, 19, he drugged and buried alive. He was finally arrested again in 1996, for the kidnapping of 14-year-old Laetitia Delhez. When she was rescued, another girl, Sabine Dardenne, 12, was discovered in his basement.
Punishment: At trial in 2004 — and after briefly escaping his guards in 1998 – Dutroux admitted to the abductions, but pleaded not guilty to the killings. His wife, Michelle Martin, was tried as an accomplice. Both were found guilty on all counts. Dutroux was was given the maximum sentence, life in prison, while Martin was sentenced to 25 years. Her early release last year was protested by thousands in Brussels.