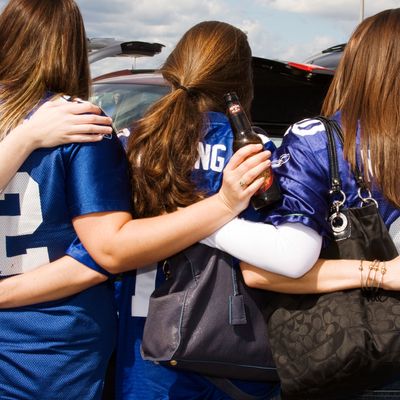 Nearly one tenth of the executives on Fast Company's new list, the 100 Most Creative People in Business, work in some capacity with clothing or appearance. There's the CEO of Gilt Groupe (17) ; the president of Growth, Innovation and Digital at Gap (23); the founder of DryBar (35); the Creative Director and CMO of TopShop (40); the founder of Baggu (69); Leandra Medine, the Man Repeller (92) and so on, with the percentile jumping even higher if you count the Urban Outfitters — "nine folks who are remaking city living to squish into a Manhattan dinner party" — on the list (49 through 57) as part of the style ilk.
But the fashion person who beat them all — at No. 9 on the list — is much more of an unknown. Her name is Tracey Bleckzinski ("The Fashion Forward Football Fan") and she's the VP of Consumer Products at NFL. Turns out Bleckzinski is the woman who has Football Femmes dressing, well, femme. She also convinced Condi Rice and tons of other women to wear slim-fit versions of their favorite jerseys for that national campaign last year. As Fast Company writes, "She's raised sales of women's apparel and accessories more than 76% over the past three years, in part with pop-up style lounges at 10 NFL stadiums last season — featuring feminine swag and proper dressing rooms. She also styled a glamorous ad campaign and is now collaborating with brands ranging from Marchesa to Walmart. It's NFL chic." While we wouldn't go so far as to call it chic, we'll still hope this means that, someday soon, the male fans will also start wearing clothes that fit, too.
In the meantime, click below to view our Football Femmes Style Tribe, originally published September 2012.