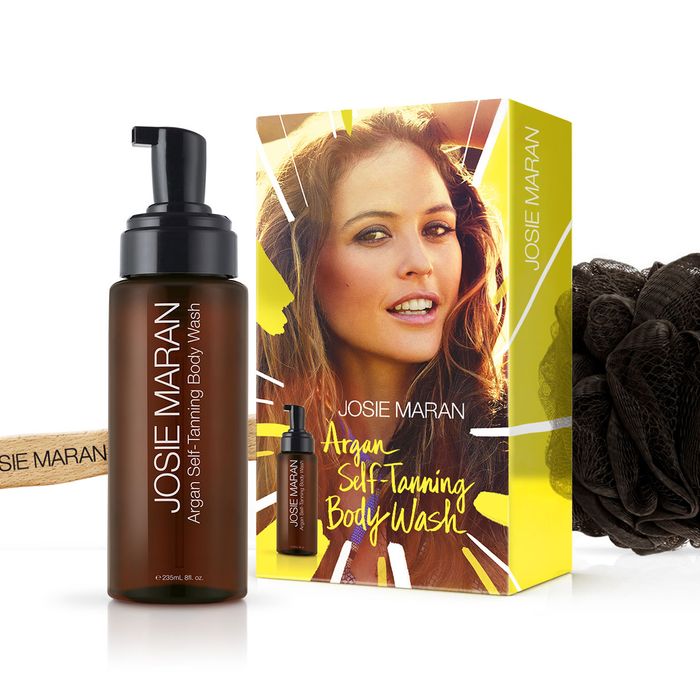 The golden rule to a successful faux-bronzing session is to put off rinsing the chemicals off for as long as possible. You want the agent to fully absorb into dry skin and "set" for at least 24 hours (48 is ideal). But beauty maven Josie Maran is about to change the tanning game: Her new Argan Self-Tanning Body Wash is meant to be applied in your shower, where it's obviously pretty wet.
The formula, which dispenses out of a pump in a foamy mousse, is loaded with moisturizing elements like aloe vera and her blend of skin-softening argan oil plus self-tanning agent DHA. According to the directions, you just pump the stuff onto a long-handled loofah (included within the package) — each section of the body requires one pump — and swiftly rub the foam in circular motions. This whole process needs to be done out from under the water stream, so either shut your shower off or huddle in the far corner of your tub, like you do when the water suddenly turns a shocking ice cold. Wait 30 seconds for the tanning body wash to penetrate the skin, then rinse. Post-shower you pat, not rub, your skin dry with a towel, then follow with a moisturizer (Josie Maran's Bronzing one will leave bits of shimmer on the skin) to keep skin hydrated and smooth.  If you follow the directions correctly, your clean skin will glow with a non-streaky, subtle tan.
Exclusively available on QVC.com now until supplies last for the next 24 hours, for $35.