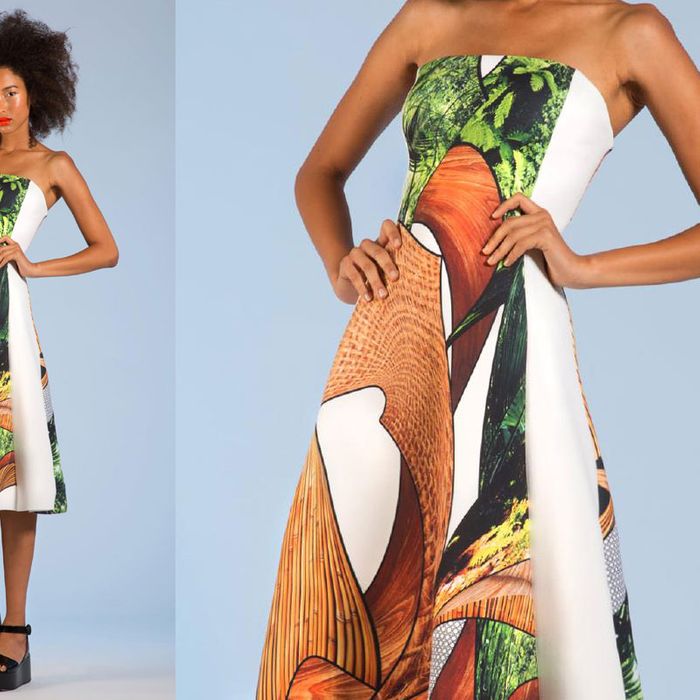 If Gucci's sparkly pajamas aren't your speed, today's batch of resort shows offers up the usual helping of bold color and graphic patterns, along with some legitimate winter staples. At Sportmax, the collection went the corporate route, drawing inspiration from Ron Jude's photographs of American Wall Street types from the nineties. Filled with pinstripes, heavy leathers, and wool staples including trousers and skirts, the palette was limited to black, white, gray, and a hint of pink — a nod to the color of the Financial Times. One sweater was especially interesting up close: a printed organza overlay bonded to the wool of the sweater, creating an unusual texture. 
Over at  MaxMara, the collection was more abstract; ballet, the Fauve spirit, and Henri Matisse's Dance served as reference points. Bits of candy-colored mink accented the collars of coats while duo-tone clutches and tiny fur bags were crave-worthy. A color-blocked coat in pink, green, and gray was reminiscent of a delicious ice cream treat —  a welcome reprieve from winter's drabness.
For those looking for something more exotic, Clover Canyon demonstrated their understanding of kaleidoscopic digital prints with vivid images of Cuba and other tropical locales. The pieces felt appropriate for a modern-day Carmen Miranda, with cheeky references like a sweatshirt featuring an older woman wearing a floral crown while smoking a cigar. Another dress combined the lush imagery of the jungle with clean white inserts, creating a graphic and architectural option for your next vacation. Click ahead to see these looks up close and personal.
See the complete Sportmax resort 2014 collection here.
See the complete MaxMara resort 2014 collection here.
See the complete Clover Canyon resort 2013 collection here.