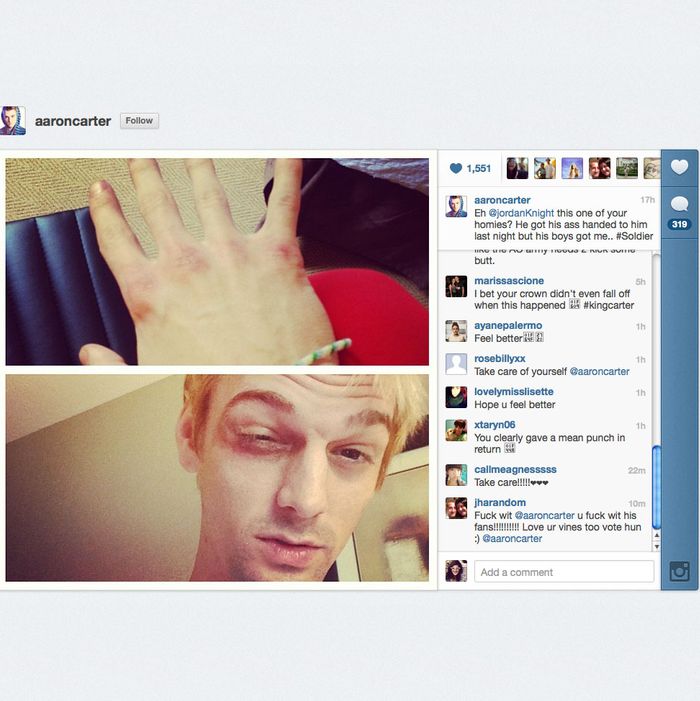 Photo: aaroncarter/Instagram
What you missed on Instagram this weekend: Former tween pop star Aaron Carter displaying injuries incurred in an alleged boy band turf war.
Carter, the younger brother of a Backstreet Boy whose affections once captivated Lindsay Lohan and Hilary Duff simultaneously, tells TMZ he was walking across a parking lot in Boston when four men jumped him. "I heard you're doing a show here tomorrow. This is the town of the New Kids," their leader yelled before the gang "jumped out of a gold Chevy Malibu" and attacked. Missing a great opportunity for a dance-off, Carter says he returned fire with his fists and "I think my knuckles might be broken, but that's what they get. People think I'm a pretty little white boy but no way. I think I won. I'm still standing."
Though he feared his fists were broken, the dulcet-voiced pugilist persevered, continuing to make appearances for his ongoing solo tour. Did you know Aaron Carter still tours?
Aaron Carter did not file a police report because that would be "girlie."