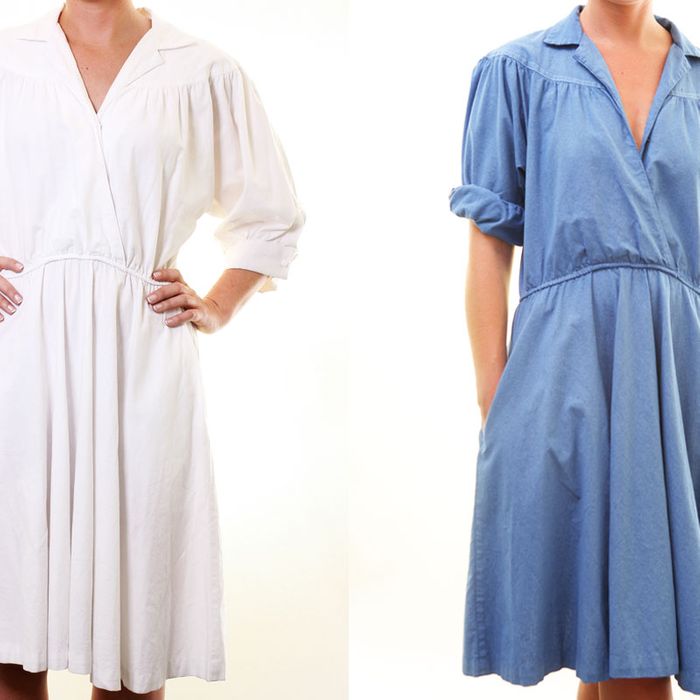 When I was a kid, I told my mom I wanted socks the color of the sky just before the stars came out. (She tried to find me some, which were a little too green, but close.) When fashion designers need fabrics to be similarly specific shades — for example, the pale bubble gum lace that appeared on Oscar de la Renta's spring 2013 runway, and later on Kerry Washington — they turn to services like Metro Custom Dyeing, a place also available to plebeians at a price. Graceann Taormina, Metro's director of public relations, indulges the customer who sends his Margiela and Balmain shirts with photos of Kanye, requesting to make his shirts look as artfully faded as Mr. West's. She has overseen a white suit dyed the perfect shade of "Gangnam Style" yellow for Halloween. She recently helped Victoria's Secret sample 119 colors of four different laces for an important meeting. So although it was tempting to see if her team could achieve the evening blue scrunch socks I dreamt of as a second-grader, I opted for pieces to pack a more sophisticated punch. Here's how you can give your light-colored — even stained — clothing a second life.
1. Choose your garments. Go for those with value (sentimental or monetary).
We all have clothes we would wear if only they were a different color or a certain stain didn't show — but some garments are simply not made to be submerged in steaming kettles of Rit dye on the stovetop, left to drip-dry all over the bathtub. Most wedding dresses, for example, are simply too enormous and terrifyingly loaded with sentimental value for DIY dyeing. However, many brides might wear their dresses again if they weren't white. I am not married, so I opted for my own shirtdress with a silhouette that reflected the full-skirted fifties vibe, and Nina Ricci. While the dress's shape felt modern, its crisp, optic white fabric made me feel a little like Nurse Ratched — not in a sexy way.
I also took out a wool, cream-colored cable-knit cardigan with a shawl collar that my late grandmother knit for my mom back in 1969. I wore the sweater through high school, in spite of a stain on the sleeve that resembled a bruise on a banana. In the years since, the sweater's multiple stains darkened with age.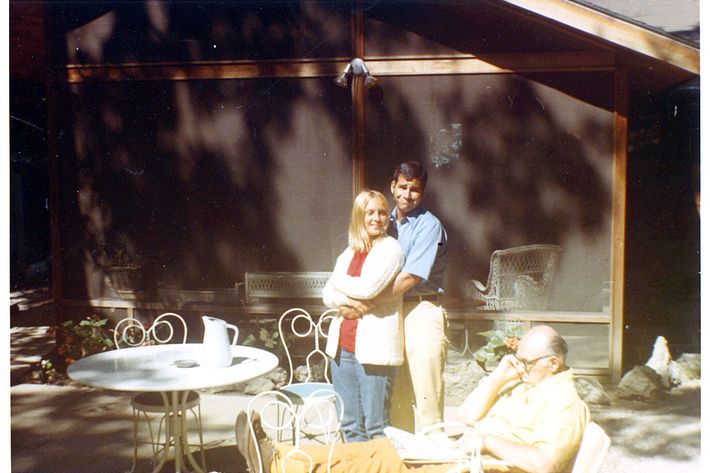 2. Know your fabric content.
Graceann spread my white dress on a table and asked me for the fabric content. The dress had no tags — it was vintage — but I felt fairly certain it got its crisp, old-fashioned hand from 100 percent cotton linen. Graceann called over Jaret Vasallo, her master dyer to have a look.
Graceann and Jaret said if the dress was a cotton-polyester blend, the color would turn out much paler than the rich shade I wanted, and that because the cuffs appeared to be a different fabric, they may take the color differently. Jaret warned me that without a content label, or a fabric swatch to test, the dyeing would be at my own risk.
My granny-knit sweater was also obviously without tags, but I was willing to swear it was 100 percent wool. Graceann warned me of possible shrinkage. I didn't mind: In a uniform, unstained black or navy — even if it was a little smaller — it could almost be from the Elder Statesman or the Row.
3. Choose a few color options, and listen to the experts.
For my Nurse Ratched dress, I had brought two dyeing options — one more ambitious than the other. First, I pulled out a vibrant, Peruvian-themed issue of French Vogue from April 2013. The magazine is full of outrageous pink references, including Burberry Prorsum's electric raspberry ombré trench, which appears in two different spreads. (Graceann had told me a hard reference, like a picture or a fabric swatch, is better than a link on a website, since everyone's screen looks a little bit different.) I showed Jaret the picture, and asked whether he thought a similar effect — fading from one shade of pink to the next — could be achieved with my dress. He looked skeptical. The Burberry trench, he said, was probably made of silk, which takes bright, dense colors well. It also had a very clean silhouette. A questionably cotton dress he said, with semi-stiff gathering at the waist, might end up streaky.
By way of example, Graceann showed me a better candidate for ombré dyeing: a strapless Monique Lhuillier wedding gown with flowing layers of white silk charmeuse and chiffon. Its owner, who lives in London, wanted to wear her dress again, and requested to have it done in navy-to-white ombré like a version (also Monique Lhuillier) photographed on Julia Stiles at the 2011 SAG Awards. The job, said Jaret, left no room for adjustments. "I [will] literally stand there for a few hours, dipping it," he said. "With ombré it's a one-shot deal. I have to get it right." The dyeing would cost the London client $350.
I pulled out Plan B — a photo of a fabric beach chair in a bright navy blue. I had previously considered it for a wall in my apartment, so I brought along the coordinating Benjamin Moore color swatches. We agreed the deep, brilliant blue was a safer bet for my shirtdress than the pink ombré — and at $100, more cost effective.
Because the sweater had stains, Graceann said black would be my best bet; otherwise, the stains would still be darker than the rest of the sweater.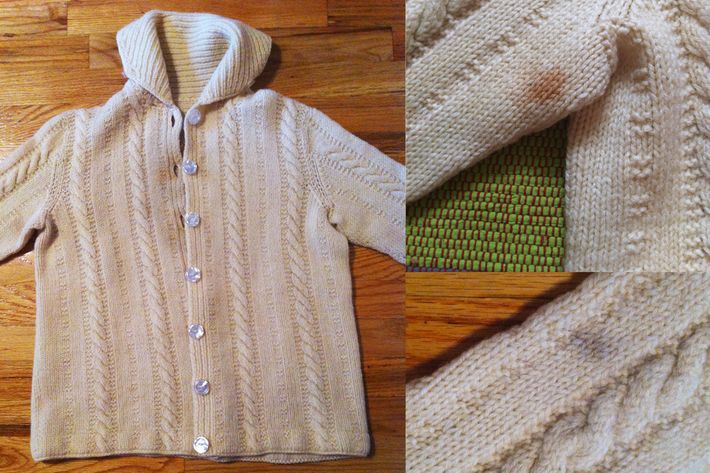 4. Remain flexible.
Seven days later, I received an e-mail saying my clothes were ready. One problem: My shirtdress indeed contained some polyester and turned out a much paler shade. Its chambray-like color was more Steven Alan than Bottega Veneta — but then again, so is my lifestyle. I was surprised (and a bit sheepish) that I hadn't known the dress's fabric contained polyester, but Jaret, who has been custom dyeing for thirteen years, reassured me. "Even big names, they'll say 100 percent and it's one percent poly," he said.
Then Graceann brought out my heirloom sweater. It had turned a deep, dense black that hid all traces of its former stains. The grosgrain ribbon my grandmother had sewn inside to finish the placket took the color unevenly — probably a product of its age — but that would be easily replaced with a trip to Mokuba, another garment district gem, just a few blocks away.
5. Reimagine your new garments … and enjoy.
Back home, my shirtdress's new color made it an easygoing, summery version of the upcoming full-skirted fall 2013 looks that inspired its purchase. I rolled up the sleeves, and tugged down on the pockets, pulling down the waist to approximate the mellow, modern drop-waists that appeared at Tibi. I'm wearing that with woven loafers today. In a few months when the temperature drops, I think I'll take styling notes from Rochas and layer a belted cardigan on top. Thanks to my grandmother, my mom, and Metro, I've got the perfect black one ready to go.