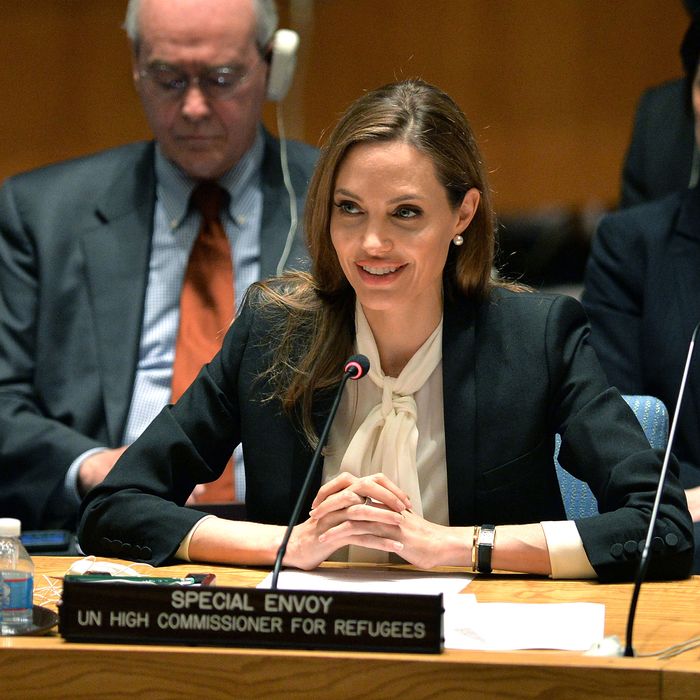 Photo: STAN HONDA/AFP/Getty Images
Photos of beautiful actors doing unspecified humanitarian work in third-world countries tend to give off sanctimonious, dilettante vibes, especially when wedged between paparazzi photos of their fellow celebrities at the beach or grocery store. But in the case of the increasingly flawless Angelina Jolie, it's perfectly legitimate. Serving as a special envoy for refugees, Jolie testified before the United Nation's security council yesterday, urging world leaders to recognize and prioritize rape and sexual violence as a tool of war — and it worked.
"Rape as a weapon of war is an assault on security," Jolie said, describing her conversations with rape survivors in refugee camps in Congo and outside Syria.
"Soon after Jolie spoke," the Guardian reports, the council adopted a legally binding resolution on sexual violence, its broadest to date, calling for the immediate cessation of sexual violence and noting "sexual violence can constitute a crime against humanity and a contributing act to genocide." But wait, there's more: British foreign secretary William Hague, who ran the meeting, told the Guardian it was Jolie's 2011 film about the Bosnian war (in which very few were prosecuted for tens of thousands of rapes), In the Land of Blood and Honey, that inspired him to take up the cause. Oh, and her boyfriend is Brad Pitt.