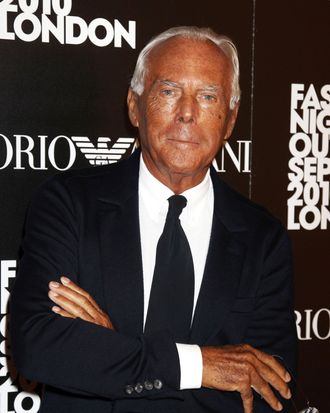 Giorgio Armani.
Photo: Chris Jackson/Getty Images
After calling for Italian fashion designers to show only in Milan (lookin' at you, Miuccia) and reiterating his desire to extend Milan Fashion Week to ten full days, Giorgio Armani has taken another step to promote homegrown talent: Today, he announced that he'll host one emerging designer's fashion show every season. This is a constructive gesture, particularly as Milan lags behind several other cities — New York and London, particularly — in providing structure and resources for the industry's next generation.
Armani's initiative will invite one designer each season to show their collection at his well-appointed theater in Via Bergognone, WWD reports. He'll kick off the program with Andrea Pompilio, a winner of the Who's on Next talent search, who is scheduled to show his spring-summer 2014 men's collection on June 22 during Men's Fashion Week. "It's time to act, to show that we are doing something for young designers," said Armani at the opening of his newly remodeled Via Condotti boutique in Rome today. "We need concrete actions to support Italian fashion, initiatives that give more strength and a feeling of novelty to Milan's fashion week." 
He also refuted Miuccia Prada's statement that she must show Miu Miu in Paris to allow for enough time between her two collections each season (she shows Prada a week earlier in Milan). "Someone said there was not enough time to produce two runway shows during the same week, but this is a motivation that does not [satisfy] me — I do it," Armani said. Gauntlet thrown! Not that Miuccia takes orders from anyone, of course.