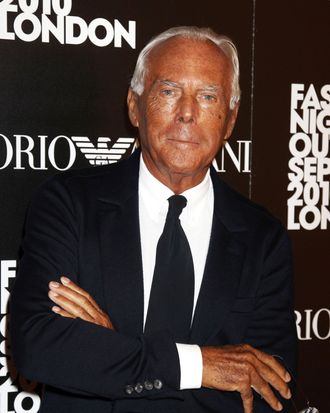 Photo: Chris Jackson/Getty Images
In an interview with the Telegraph, Giorgio Armani talked about the plight of today's red carpets ("it's a business") and other fashion-industry peccadilloes. But what about that time he tried LSD?
"Si, si!" Armani concurs cheerfully: "I'd better tell you the story. It was a long time ago, we were in the office, and we had finished work exhausted. A friend of a friend said 'hey, take this it will give you energy', so I thought I'd try it. I didn't know what it was. It made me laugh and laugh, like crazy… to the point that my back hurt" - he holds his hips - "like I'd just had a baby."
We're envisioning something like this, only with even better suits.