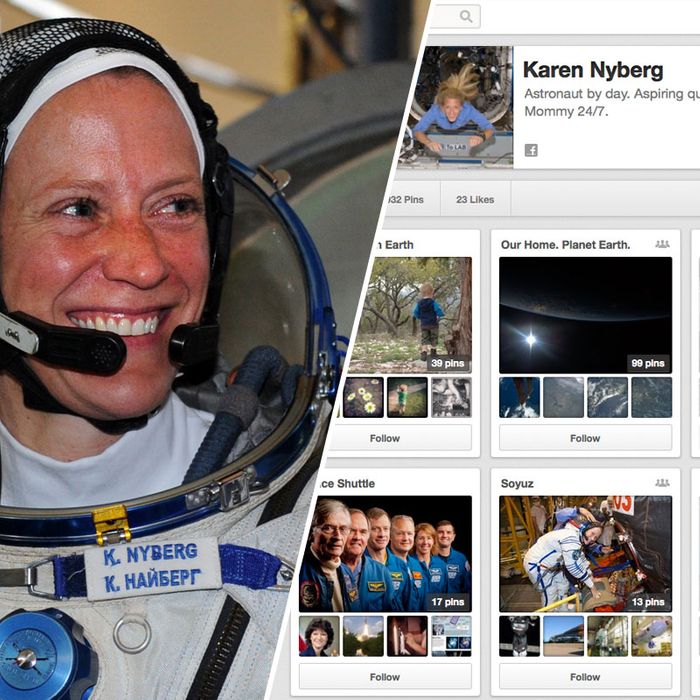 Astronaut Karen Nyberg is on the International Space Station right now. Like many an astronaut before her, she is active on social media. Unlike most, however, her preferred social media network is female-friendly, domesticity-oriented photo-sharing network Pinterest.
"Astronaut by day. Aspiring quilter, crafter, artist, runner by night. Wife and Mommy 24/7," her bio reads. Nyberg, who first worked with NASA as a mechanical engineer in the '90s, has 23 pinboards. Some are dedicated to spaceflight and science, others to domestic hobbies and her children. A pinboard called "Hair and Space" reveals the volumizing effect of zero gravity on her magnificent hair. "When girls see pictures of ponytails, don't you think it stirs something inside them that says, that could be ME up there?" Nyberg writes.
Before arriving in space, Nyberg's pinning routine included baby quilts, birthday cakes, and diagrams of aeronautical equipment. "I've been using Pinterest for a couple of years and absolutely love it because of my other hobbies," she told CBS News last month. As she prepared to leave Earth, she started "adding some space things."
Now that Nyberg is in orbit, most of her pins depict astronomical phenomena and science experiments. But space provides traditional Pinspiration, too. A recent picture of "floating fat quarters" — fabric squares for quilting — has Nyberg's followers eagerly anticipating the quilt she seems to be sewing in outer space.