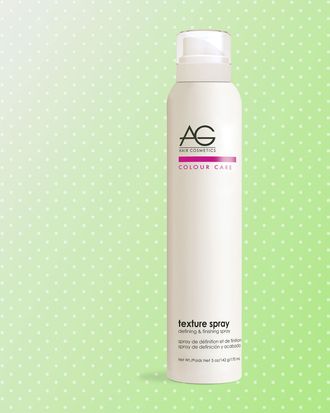 Those of us born with stick straight hair need a slew of products and heat tools to get that slightly wavy, music-festival feel. AG Hair Cosmetic's newest Texture Spray (available in August) is supposed to give follicles that "model off-duty look" (their words) with just a few spritzes. Per the directions, you just have to spray the product into dry hair, then "coax" and scrunch sections with your hands to give it that lived in, tousled look.
My mane dries perfectly straight with or without the help of a blow dryer. It lives up to the term "wash-and-go." Sure, during the more humid, summer days, a few wayward strands will manage to kink and frizz up, but that's nothing a touch of hair oil can't handle. So the first day I used AG's Texture Spray (closely following the directions), I wasn't surprised that it didn't do much at all — except make it smell nice. It didn't weigh down my hair or have an overly product-y or sticky finish. And if I had color-treated hair, I'd appreciate its protective UV filters. Basically, it didn't feel off from a standard dry shampoo; if I knew how to braid my own hair, I'd trust that the product would offer enough the minimum amount of texture needed to hold one.
On day two, I decided to put a little bit more effort in to see what's possible. So I sprayed it all over on slightly damp hair (more dry than actually damp), then twisted up very small sections into little coils and bobby pinned each to my head. I let it "set" for about fifteen minutes, then gave it a final blast of heat from my hair dryer. After carefully taking out the pins and giving it a shake with my fingers, my hair definitely had that mussed-up, Alexa Chung vibe to it — for about twenty minutes. The second I stepped out into the humidity, it was game over. There was no longer a soft, wavy effect; instead, each section had straightened out with a slight kick at the ends. Those without chemically straightened or naturally linear hair will probably have better luck.