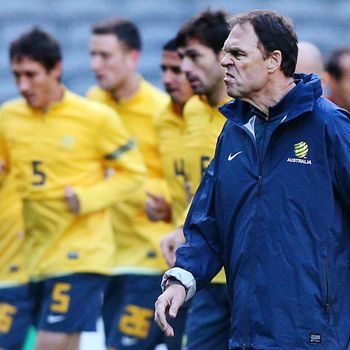 Photo: Michael Dodge/Getty Images
Speaking into a hot mike before a press conference yesterday, Holger Osieck, the German coach of Australia's national soccer team, joked that a Football Australia official was ordering him around like his wife. And while he's on the topic of women, are you familiar with this useful Latin phrase?
"There's a saying, 'Mulieres taceres in ecclesia' … 'women should shut up in public' … I say it to my wife at home, it is a private one."
Olsieck apologized to those who were offended yesterday, the Daily Mail reports, promising that it was "nothing more than a funny remark," "nothing against any women or whatever,"and "definitely just a complete misunderstanding," albeit one even his wife might share. "If my wife knows, I'll probably be in big trouble when I get home," he said.