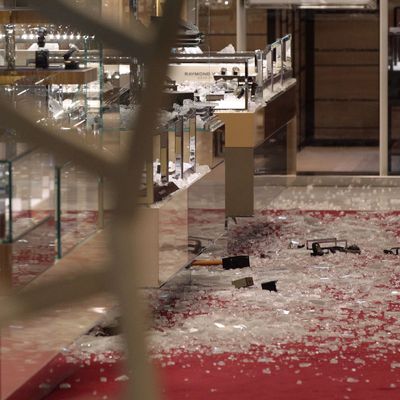 Scene of the crime at Selfridges.
Photo: Yui Mok/AP
Yesterday evening, a gang of burglars with axes and hammers burst into the Selfridges flagship store on London's Oxford Street. The store had not yet closed for the evening, and several customers were still milling about the floor. The thieves, at least one of whom was disguised with a burka, smashed jewelry cases and made off on mopeds with duffel bags full of merchandise, British Vogue reports. Two of them were apprehended at the scene when their moped skidded to the ground, but it's still unclear how many robbers were involved.
This is the latest of several "smash-and-grab" thefts in London, although there's no reason to believe they're related to one another. Selfridges tweeted later in the evening that "everyone is safe and the police are investigating," and they opened for business as usual today.