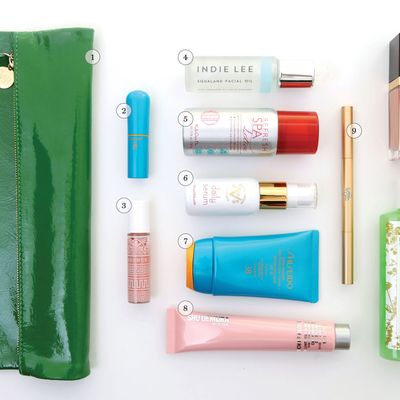 Last time we opened up the inside of our dop kits, Stella and I were on our way to Paris Fashion Week. For me, the maximalist and beauty editor, this meant packing all of my skincare and makeup favorites to transition me from airplane to backstage to dinner and beyond. Whereas Stella, the minimalist, opted for a hyper-edited kit. There would be no time to consider which eyeshadow would look best with which lip color whilst managing a packed show schedule.
Beauty routines, however, are not static. Different travel situations bring out different behaviors in all of us. This summer, we're beach bound, and oh, how the tables have turned. The maximalist is now the minimalist — and vice versa. A weekend getaway for me means taking the time to step away from my work self and go a few days without thinking about beauty things. My no-fuss kit only includes my skincare essentials (sunscreen included) and hardly any makeup at all. For Stella, the editorial director who's secretly beauty-obsessed, this is her chance to relax and pamper herself — with as many products as she can fit into her oversized Smythson bag.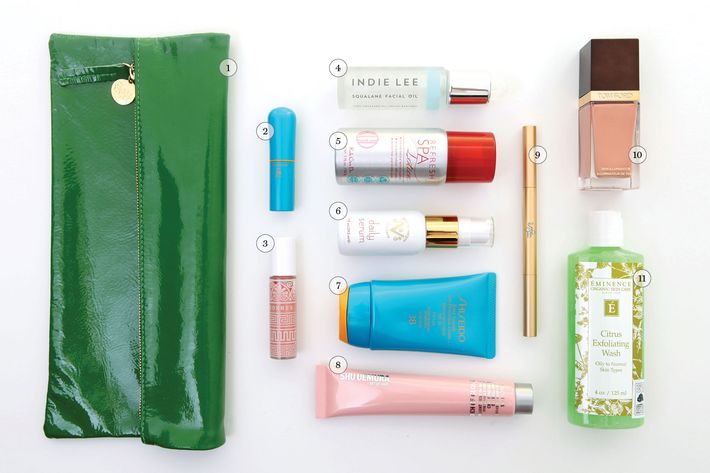 The Minimalist: Christina Han, beauty editor
1. Claire Vivier Foldover Clutch ($156)
A weekend at the beach means never having to leave the beachfront house. However, if there are plans to go off-site and into a local drinking hole, then at least I can take this multi-purpose pouch and double it as a clutch.
2. Shiseido Sun Protection Lip Treatment SPF 36 ($21)
Must not forget to protect the pucker.
3. Korres Greek Yoghurt Nourishing Lip Cooler ($19)
This lip treatment hydrates lips but manages to leave behind the prettiest hint of pink, just so it looks like I tried.
4. Indie Lee Squalane Facial Oil ($32)
A new obsession for my always-dry complexion.
5. Koh Gen Do Skin Spray ($18)
I hate the idea of slathering on a heavy cream post-shower. This spray-on lotion is incredibly lightweight and airy. It sinks right into the skin while leaving behind a fresh ginger scent.
6. Joanna Vargas Daily Serum ($85)
Sunscreen replaces my regular moisturizer with SPF at the beach, but I'll stick to using my serum each morning. This way, I'm still giving my skin the potent antioxidants it needs on a daily basis.
7. Shiseido Extra Smooth Sun Protection Cream Broad Spectrum SPF 38 ($32) 
My mom introduced me to this sunscreen when I was in college, and it's all I really know. For the body, I'll pick up some spray sunscreens at the drugstore. It's the only thing I can get my boyfriend to use.
8. Shu Uemura Touch of Gloss Brilliant Leave-In Balm ($38)
I prefer to air dry my hair during the summer because it's really too hot to blast a blow dryer onto my head. Instead, I'll  work a dollop of this lightweight styler into damp hair to give my ends a less frizzy, more finished look.
9. Sania Mechanical Brow Pencil ($25)
I don't have very full brows, so I rarely leave home without filling them in. Even for days spent by the beach or pool, I can't live without defined brows.
10. Tom Ford Skin Illuminator ($65 at Selfridges, since it's sold out in the U.S.)
Makeup is certainly not a priority at beachside BBQs, but to add just a hint of color to the skin, I'll dab on this sheer highlighter to my cheeks. It looks pigment-heavy in the bottle, but it'll leave behind the faintest wash of rose-gold shimmer. This is what you want to use for that glowing-from-within look.
11. Eminence Citrus Exfoliating Wash ($38)
This cleanser has gentle exfoliating beads that won't tear apart my skin, but still manage to take off every last remnant of SPF, sand, and salt.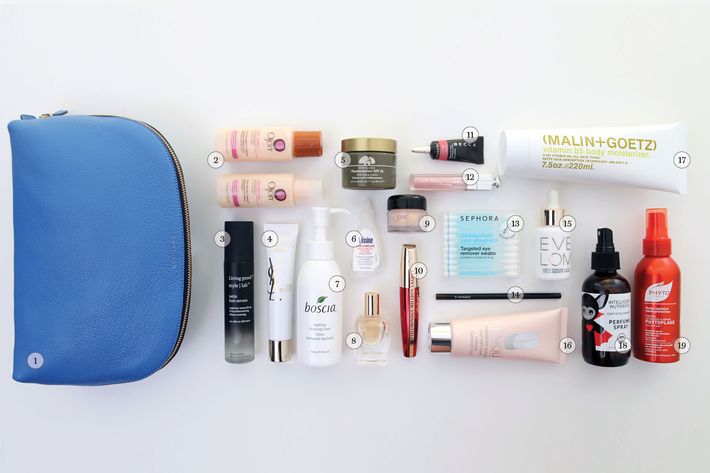 The Maximalist: Stella Bugbee, editorial director
1. Smythson Cosmetic Case ($235)
Pretty enough to leave out on a side table, but organized inside and lined in cleanable material.
2. & 19. Ojon Color Sustain Kit ($39) PhytoPlage Protective Beach Hair Spray ($22)
Dyed hair turns all kinds of ugly colors in the sun. In addition to a hat, I use a special color-protective shampoo and beach spray to keep my single-process a rich brown.
3. Living Proof Satin Hair Serum ($29)
Never a fan of "beachy waves," I still want frizz-free hair. This silicone-free formula can be applied dry or wet and instantly tames the fuzz.
4. YSL Top Secrets All-in-One BB Cream ($50)
At night we throw dinners, and I like to step it up a notch by appearing at cocktail hour with flawless skin.
5. Origins Plantscription SPF 25 Anti-Aging Cream ($55)
Might as well get moisturizer and sunscreen all-in-one as a base layer of sun protection. Then add zinc-y white stuff later.
6. Visine Maximum Eye Drops ($6)
I try not to use eye drops very often, but after a long day of chasing kids in the water, my eyes often resemble fireballs.
7. Boscia Soothing Cream Cleanser ($26)
Christina gave me this as an upgrade from my Cetaphil. The unscented, milky cream gently lifts sweat, makeup, and resistant sunblock, leaving your face shiny and smooth.
8. Jour d'Hermes Perfume ($108)
I love to take different perfumes on vacations so that every time I smell a particular one, it will remind me of that trip or time in my life. This summer, I'm packing this lovely, grassy scent.
9. Olay Total Effects 7-in-One Anti-Aging Eye Cream ($18)
I'm paranoid about crow's feet.
10. L'Oreal Voluminous Million Excess Lashes Mascara ($9)
Waterproof mascaras are good for swimming, but I don't need that because I only wear it at dinner, after a nice shower. The giant brush on this one grabs every lash and gives good, clean coverage.
11. Becca Beach Tint ($25)
I love a good liquid blush. A dot of this potent pink simulates a good run in the early morning sun without having to take one.
12. Dior Addict Lip Maximizer High Volume Lip Plumper ($31)
Lipstick at the beach feels too formal, but a bit of glossy volume never hurts.
13. Sephora Target Eye Remover Swabs ($9)
A perfect, compact way to bring eye makeup remover.
14. MAC Eye Brows Pencil ($16)
I never leave home without this easy-to-use, self-sharpening brow pencil.
15. Eve Lom Intense Firming Serum ($95)
See #9.
16. Clinique Moisture Surge Overnight Mask ($32)
Since this is my "Treat-yo-self" time, I will throw one extra item into my routine. I don't know exactly what it does, but always elicits the reaction, "Wow, you look so well-rested."
17. Malin+Goetz Vitamin B5 Body Moisturizer ($38)
This is a huge tube of lube to bring to the beach, but vacation is one of the only times I bother to moisturize every last inch of my body, so I need a lot.
18. Intelligent Nutrients Certified Organic Perfume Spray ($28)
Chemical bug spray is universally gross. This one is palatable and effective at warding off the mosquitoes during late night bonfires.