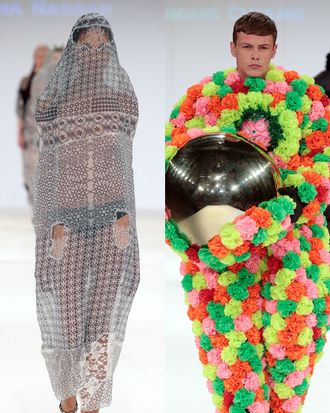 Photo: Courtesy of Graduate Fashion Week
It's Graduate Fashion Week in the U.K. — the annual opportunity for British fashion colleges that aren't based in London to head to the capital and get some press attention. There's a large-scale exhibition over four days, with nervous-looking graduates on hand to discuss their designs, plus runway shows for each college.
This morning, attention shifted briefly away from Brit colleges for the first-ever International Show, a chance to see what's being produced by fashion students across the world. The lineup included graduates from Germany, Italy, Turkey, France, Taiwan, Pakistan, Denmark, Norway, Israel, Japan, and the U.S. (from Parsons and the Academy of Art in San Francisco).
There was the full spectrum of great and less-great student design here, but several of the collections showed real potential. "It was sensational," declared an excited Hilary Alexander afterward.
Francesca Della Valle of Accademia di Costume e di Moda in Rome was one of the most interesting designers from a textural point of view. Her menswear collection opened with a jacket that seemed to fade seamlessly from a gray woven tweed at the shoulders and lapels into a soft blue velvet at the waist; the "tweed" had to be a print. And it was beautifully done.
Sasha Nassar of Istituto Marangoni in Paris opened her section of the show with a sheer, full-length sheath (above, left) that covered the entire head and body of the model (it looks great, but don't expect to be able to hold a drink). Her collection used patchwork to combine differently patterned sheer fabrics, joining black and white pieces of lace and printed silk together in unexpected lines. It was simple but promising.
But the star of the show was a young designer from Shi Chien University in Taiwan — Angus Chiang — who won the International Award for his collection. His padded men's boilersuits in black and neon, embroidered with dragons, caused me to scribble down "rave astronauts" — and to mean it as a compliment. He got the loudest applause of the show (and delighted laughter) for his final look: an absurd spacesuit covered in multicolored pom-poms, complete with huge reflective helmet (above, right).
How that kind of design can translate to sales is a question Chiang's going to have to figure out over the coming years. But it was the most exciting and memorable look of the show, and for a young graduate whose career will depend on carving out a distinctive style, that has to be a good thing.