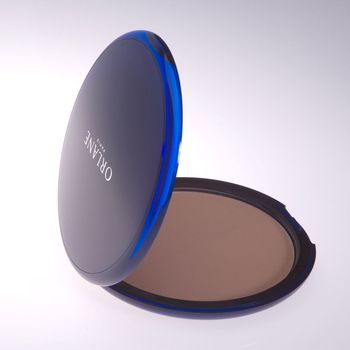 When it comes to makeup compacts and palettes, most can conveniently fit in the palm of your hand. But fancy French skincare line Orlane's Soleil Cuivre 02 Compact Bronzer has a hefty name to match its almost unwieldy size. To give you a better sense of its magnitude, the diameter of the otherwise sleek clamshell (in the company's signature blue) closely matches that of a bread plate or a Burger King Whopper. I have large-ish hands, so can manage to grip the giant cosmetic case in my long, should've-been-a-piano-player fingers; those with daintier appendages will require a surface to set it down upon. It's not meant for bronzing on the go, especially with its $40 price tag (dropping it would be tragic).
The great thing about the product's sheer size is that you can use a wider, fluffier brush for a more subtle, sun-kissed effect. For me, a standard bronzing brush provided just the amount of faux glow (with just a hint of shimmer) that I was looking for. Then a wider, fan-shaped one swept over the powder delivered a sheer bronzed effect on my neck, chest, and shoulders. The color payoff is akin to having just had lunch outside, rather than spending the afternoon baking under the sun. Oh, and you can actually see your entire face in the enclosed mirror rather than just an eye or cheek.
The powder is also subtly rose scented, which gives it a nostalgic effect, like other old-school French cosmetics (Orlane was founded in the mid-forties and has retained much of its sensibilities). The fine powder particles are also pressed to the point where swirling your brush won't create a cloud of loose particles that can get all over you, your bathroom sink, and make a mess within the compact (dusting up the mirror). Instead, each pass of the brush will make for a clean sweep. Since French girls have been sweeping this stuff onto their skin for more than 50 years, maybe bigger is better.