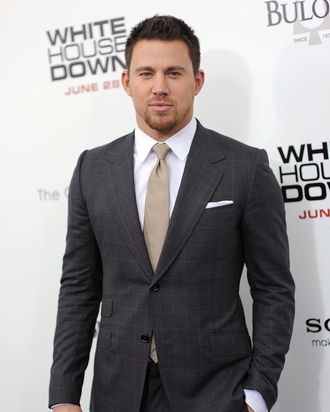 Photo: Dimitrios Kambouris/Getty Images
While speaking to Chelsea Handler on yesterday's show, the new dad and White House Down actor got surprisingly candid about the birthing process, even opening up his giant, softie heart to reveal that he cried — obviously eliciting a chorus of "awwws" from the audience. "I probably went to the bathroom four times and had a crying fit. Like, I'm just like, I don't know what to do," he articulated to Handler. But upon further prodding by Handler, (e.g. Did the tears fall because he was freaked out of his mind? Or just worried about his wife's health?), it seems like his "crying fits" were triggered by a healthy dose of both.
"It's like someone's hurting, someone that you love and you can't do anything about it. You physically cannot help," he explained to Handler in a heartwarming rom-com answer that could put him in the running for husband-of-the-year. "I'm still not helping and the baby's out. It doesn't matter. You are useless; men are useless, but we are really useless during this," he continued. But he didn't stop there. "It's a real thing. It's like National Geographic animal-style for real. I don't get it." It almost seems like Tatum wanted to believe that babies are delivered by storks. Still, his wide-eyed fascination regarding the human birth process is endearing, and even seems to rival Duchess Kate's.