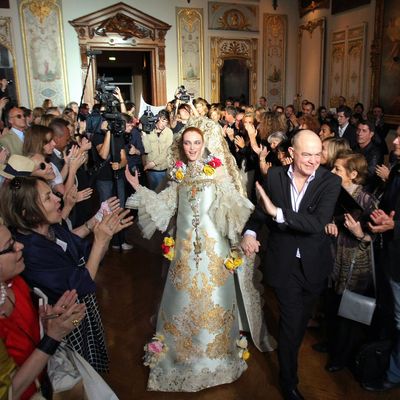 Photo: PIERRE VERDY/AFP/Getty Images
The couture shows are next week! And kicking them off will be Christian Lacroix, king of all things tulle and puffy and bow-covered, who returns to the schedule for the first time after his label's sad implosion in 2009. He's in charge of reviving the long-dormant House of Schiaparelli, which is currently owned by Tod's president Diego Della Valle, who bought the trademark seven years ago. The 18-piece collection, presented on mannequins in Les Arts Decoratifs, is a one-off for Lacroix; he'll then step aside to make way for a permanent creative director, rumored to be Rochas's Marco Zanini.
Since closing his bankrupt business (the photo above is from his last couture show), Lacroix has busied himself with a myriad of design projects, including luxury hotel decorations and knickknacks for the Louvre's gift shops. This collection will reflect his flair for theatrics and historical appropriation. He tells WWD, "It's as if it was a musical about Schiaparelli, and I'm in charge of the costumes," adding that he shares many tastes with the late designer, whose name recognition got a boost from last year's Schiaparelli-and-Prada-themed Met Gala:
I love that — how to be witty, spirited, elegant, Parisian, even during the war … Colors, ribbons, whimsical hats — everything I love is coming mainly from her.
Fun! Although it is a little sad that he's not using live models. Let's not forget this is the man who used to put Carla Bruni in outfits like this: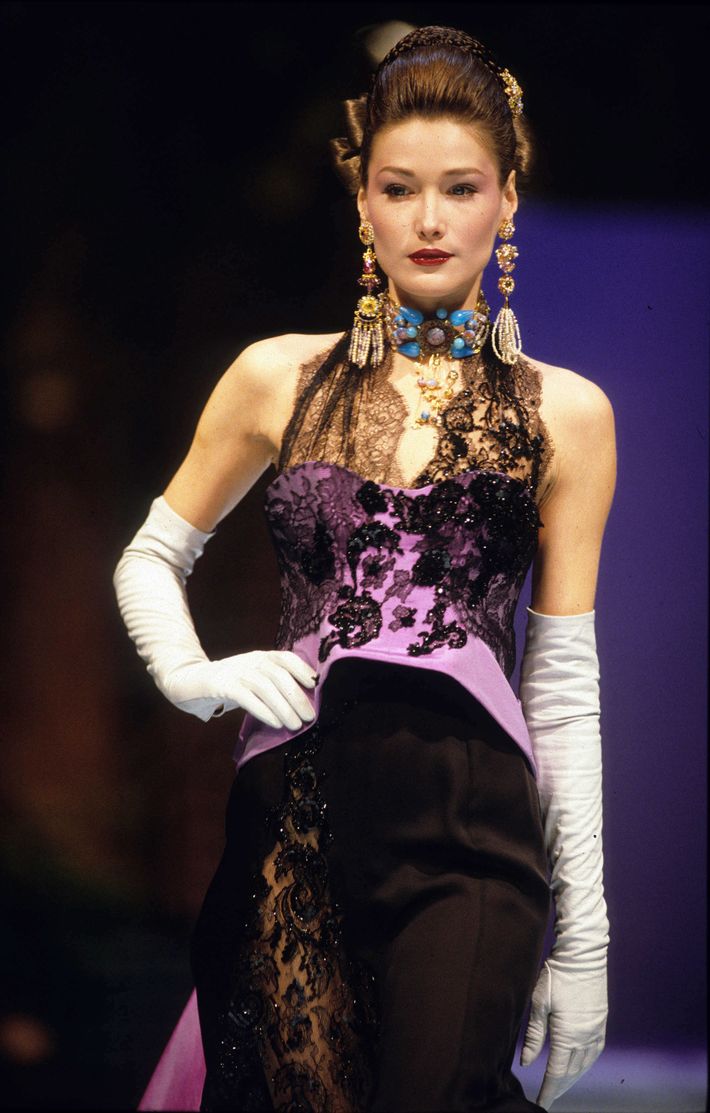 Anyway, expect the unexpected! WWD adds that the collection won't be sold, which means it's purely for spectacle's sake — the best kind of couture presentation, in other words.