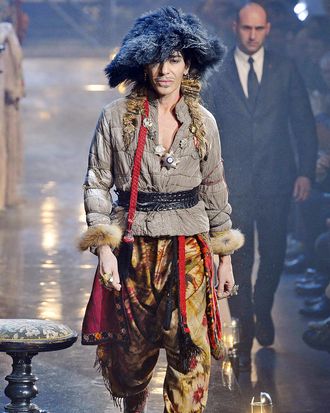 John Galliano.
Photo: Alessandro Lucioni
Galliano has gotten lots of support from the American fashion industry, including the powers that be at Condé Nast, who recently brokered a sympathetic profile in Vanity Fair. So who, besides Anna Wintour and Oscar de la Renta, is driving the designer's comeback charge? Also onboard is Condé Nast International CEO Jonathan Newhouse, who tells British Vogue (which, it bears noting, is one of the magazines he operates) exactly how much he's invested in the Galliano resurgence:
I became aware of John Galliano in the early Nineties through Vogue and the other fashion press, and I started to attend his shows. It was clear that he was a creative genius, a phenomenon, and his work generated enormous excitement in the fashion community…

I have been a fan and a supporter. I have tremendous admiration for fashion designers, who are at the centre of our business, often under terrific pressure.
As previously reported by the Times, Newhouse laid the groundwork for Galliano's comeback by sending him Jewish literature and inviting him to temple services.
After he left Christian Dior and went into recovery from his illness, our relationship deepened and became a friendship. I gave him books about the Holocaust and Jewish history and opened some doors to the Jewish community. I introduced him to Jewish leaders and a rabbi, Rabbi Barry Marcus from Central Synagogue, with whom he established a dialogue. We even attended synagogue together. I have tried to be a kind of guide and a source of support. I believe in John.
Well, that pretty much seals the deal: Galliano's comeback won't flop. In this industry, the faith of a few very important people is often all you need.