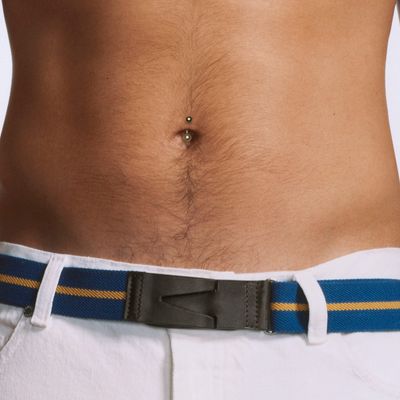 Photo: Photo: Eric Cahan/Corbis
Recently, on Gchat, I egged a friend on to get a belly button piercing. It was a reenactment of an online conversation — part enthusiasm, part envy — I used to have weekly more than a decade ago, when my cohort was forging permission slips and finagling rides to Claire's in the hopes of looking like Britney Spears. The only differences were that, back then, I was using AIM, and now it was a daring guy friend through whom I hoped to live vicariously. A man who sleeps with women.
The male belly button ring is rarely seen in the wild. Its meaning — Is it gay? Is that a deal breaker? — has befuddled the audience on The Wendy Williams Show and a bodybuilder's forum alike. But, to me, my friend's choice had a timely logic to it. Twenty years after John Paul Gaultier pierced Christy Turlington's belly button (and Naomi Campbell, Christina Aguilera, and Keira Knightley followed suit), it's back in style for women, in lock step with all other things nineties. Beyoncé slipped hers back in for her "post-baby body" Shape magazine cover, Vanessa Hudgens wore one in Spring Breakers, and Lindsay Lohan's wasn't out of place at hipster costume party Coachella. Worn among nouveau grunge's structured crop tops and platform creepers, the belly button ring is no longer a shameful vestige of one's "fast" teenage years, as my mom would say. It's intentional, referential.
Men, too, are resuscitating the nineties, notably those short-sleeved shirts in garish Saved By the Bell patterns. (We have Louis Vuitton's version in bandana print to anticipate). Two decades after Nirvana performed in dresses, rapper Kanye West says his signature skirt is proof he's not vain. Straight men in flyover states sport nail polish. No one even remembers which pierced ear is the "gay" one. So why wouldn't forward-thinking men get in on the belly ring thing this time around?
One reason men may not go for it is that the belly button ring has associations not just of femininity, but of suburban girl rebellion. A pre-Clueless Alicia Silverstone pretty much set that in stone in the 1993 music video for Aerosmith's "Cryin'," which was largely blamed for the nineties craze. 
That's the mood some revivalists seek to reclaim. The male friend who is considering one explained the type thusly: "All my [female] friends who have them have them as, like, an ironic bad-girls-club hashtag. It's cheaper than a tramp stamp, lower stakes than a boob job, and less corny than getting a Playboy bunny blocked out in the tanning booth."
But when it comes to guys, the ironic mallrat look "takes balls," says Emanuel Salazar, a salesperson at New York upscale piercing shop Venus by Maria Tash who had his belly button done about a year ago. "I was like, I wanna go hard," he recalls, opting for an expensive piece of amethyst jewelry that he considered his consolation for not getting to wear a bikini top. In Salazar's career, the male belly button piercing has been consistently rare, even rarer among straight men. "A lot of guys stick with that stigma that it's effeminate."
Most body piercings claim origins in Los Angeles's gay S&M scene in the 1970s, Salazar says, but since then, most locations — eyebrow, nose, lip, nipples, genitals — proliferated across gender and orientation lines. Only the belly button ring went mainstream exclusively on women. So it's no surprise that if the needle has budged on the men's belly button ring this decade, it's happening in Williamsburg, Brooklyn, ground zero for improbable trends. "It's not as rare as you would think," says Chris Beierschmitt, a veteran piercer at neighborhood institution Pure Body Arts. He estimates one out of every twenty navel piercings is a man, an even mix of gay and straight. "If you saw these people on the street, you'd never know what's under their clothes," he says.
But in popular culture, the male belly button ring is still pure punch line. After a quick sight gag in The Hangover (a strand of rhinestones nestled in Zach Galifianakis's belly fur), the most recent one might be Comedy Central's Workaholics. Adam Devine gets his done in order to meet a new weed dealer at the tattoo parlor.
For this reason, the straight man's belly button ring is largely the domain of the drunk or the dared. "In my thirteen years as a piercer, I think I've pierced three men's navels, two of which were for punishment as a lost bet," Colby Smith of East Village's New York Adorned told the Cut via e-mail. The most recent man-navel to see the piercers at Venus by Maria Tash was the loser of a fantasy football — the European kind — league bet. His punishment was to get his belly button pierced with a charm of the winning team. (Yes, such products exist.) "This man was very wealthy and well-known," Salazar says. "He had to go sit in the sauna of losing team with the winning team's emblem on his navel."
Which brings me to another obstacle to men's midriff adornment: "It's very hard to find masculine jewelry for navel piercings," says Salazar, who eventually switched his amethyst for a stainless steel option. I imagine that, with the right jewelry, the male belly button piercing could convey a kind of rakish, Mick Jagger masculinity. But the closest I've found so far is Austrian tennis player Stefan Koubek, best known for attempting to choke an opponent during a changeover in 2010. Before he retired in 2011, he occasionally flashed his small navel hoop, a glint of metal in a fuzz of his blond (sorry) happy trail while shirtless on the warm-up courts, or when he lifted his shirt mid-match to mop sweat off his brow.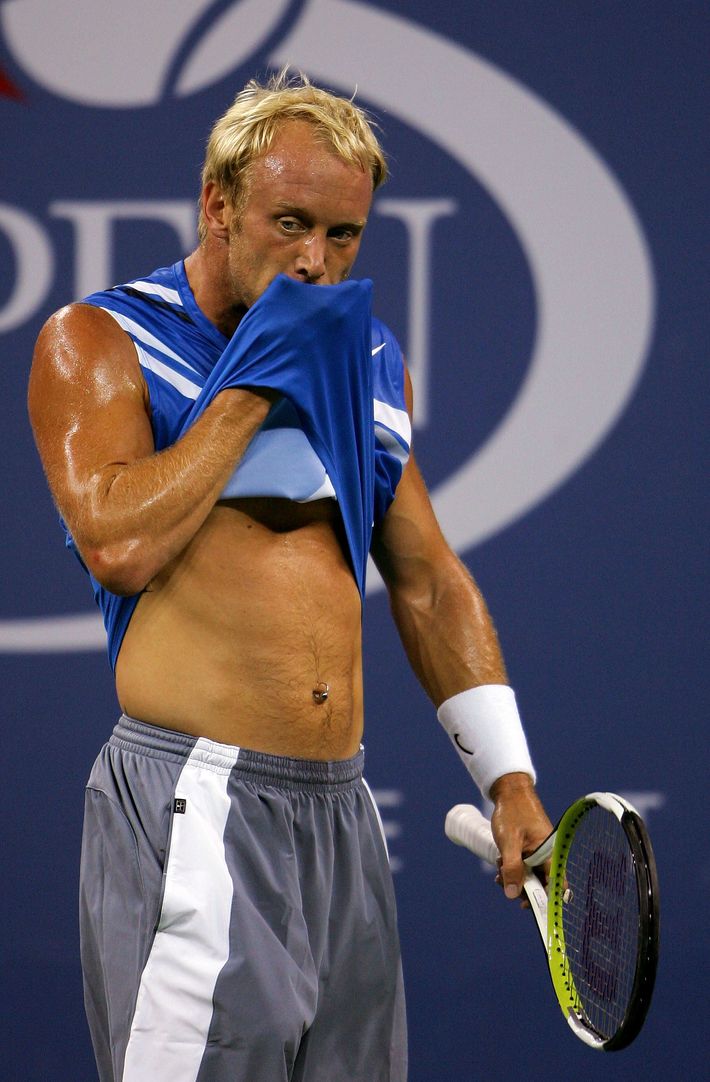 My friend predicts straight men won't embrace belly button rings until the crop top catches on with men. Stranger things have happened; they showed up at J.W. Anderson Collection and Astrid Andersen menswear shows in the past year. But, as with teenage girls, much of the male belly button ring's appeal lies in its ability to be easily hidden from parents, employers, and other judgmental types. Former dancer and first-wave navel piercer KerryChad Albright chose a belly button ring in 1993 because it was the best way to dabble in the piercing subculture without interfering with his work. Twenty years later, Albright has his own theory about why male belly button rings fail to crack the mainstream. "That's the first place men gain weight," he says. "Like what hips are to women."