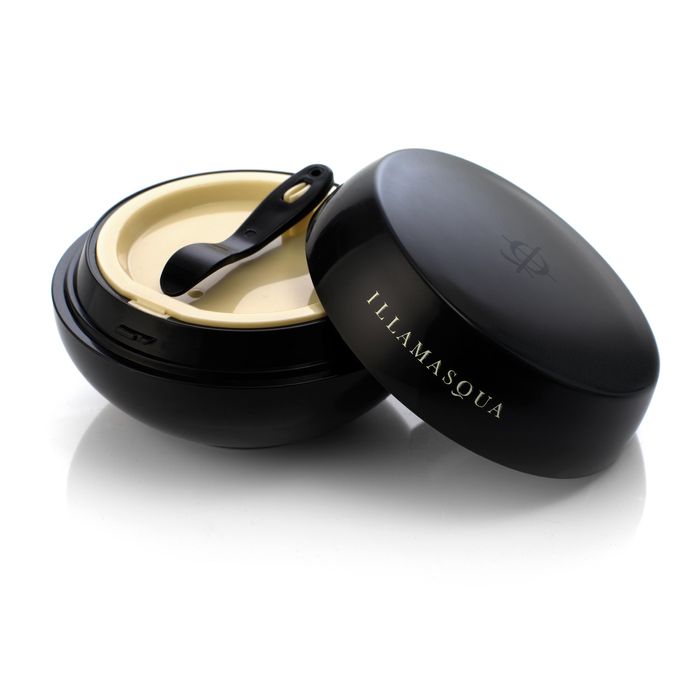 Illamasqua's newest product name, Hydra Veil Rehydrating Gel, might be slightly confusing. Is it a moisturizer? Is it a treatment? Is it black magic? Well, it's kind of all those things. The clear, jelly-like formula includes ingredients that provide a plumping, hydrating effect on the skin but also smooth out the surface for easy makeup application. It's packaged in a black pot that looks like a witch's cauldron (tiny applicator spoon included), and it's essentially a moisturizer/primer hybrid.
There are a few ways to apply the oddly-textured gel (more on that in a bit): Slather it onto the skin like a primer (following your own moisturizer) and a micro-algae derived antioxidant will give complexions a glowy, hydrated look without seeming greasy. You can put it on all over, or just in spots that seem the most dry; either way, the stuff melts right into your face with a clean finish. If you're a foundation wearer, you'll notice that makeup will go on more smoothly and last all day without flaking (unless your skin is very dry like mine, and constantly begs for more moisture). I used it to revive my makeup after a lunch and before dinner without actually having to touch-up my foundation. You can also apply it midday in the under-eye region for a cool dose of hydration. I noticed a slight tightening effect that made me think all those fine lines were getting whisked away.
So about that weird texture? Definitely plan on using the mini-spoon, which is usually the first thing people toss with other face creams. This jar has an ingenious clip attached to the lid for easy storing of said spoon. Which is good, because if you try to use your (warm) fingers, you'll notice that the formula will dissolve right into your hands (like it does on your face). If you use the spoon to scoop, the formula will land where it's supposed to be. And you'll have fun swirling the thing around to see the gel break apart and then congeal back together, like cosmetic quicksand.