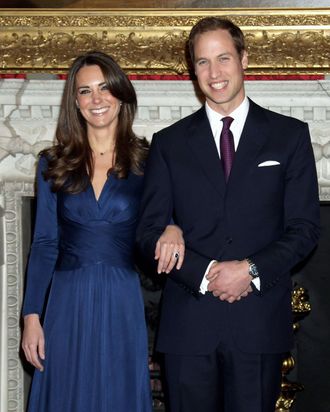 Kate and Will.
Photo: Chris Jackson/Getty Images
Constable Paul Flattley has been identified as the policeman who was paid to leak inside information about Kate Middleton and other confidential matters to the Sun, a British tabloid, over the course of three years. Although he was sentenced to two years in jail in March, Flattley's name was kept secret (ironically) until now because the Sun editor he sold them to, Virginia Wheeler, was still under investigation. Yesterday, Wheeler was deemed unfit to stand trial owing to ill health, and the details of Flattley's misconduct were subsequently released.
According to the Telegraph, Flattley was paid £7,600 (about $12,000) by the Sun for 39 stories total. His former sergeant happened to be Kate Middleton's protection officer, so he gained access to private information about her daily life, once following up on a pre-engagement rumor that Prince William was about to propose (he didn't find anything). He also leaked tips on the drug-induced death of a 15-year-old girl, the hospitalization of singer Lisa Maffia's boyfriend, and an instance where pop star Mika's sister suffered a 50-foot fall from a window. On average, he was paid about £750 (over $1,100) per tip. Needless to say, he won't be getting his job back when he's released.