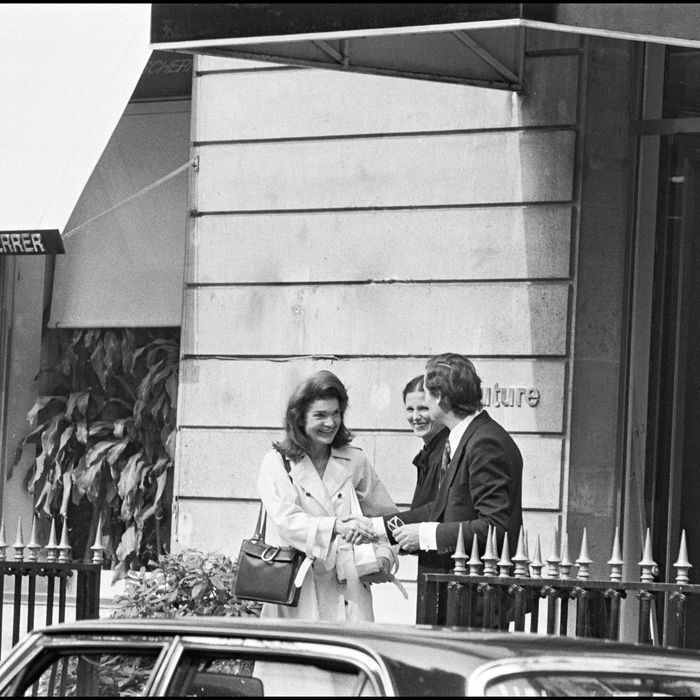 Photo: BERTRAND RINDOFF PETROFF/Getty Images
Retired French couturier Jean-Louis Scherrer died on Wednesday at his home in Paris. He was 78 years old and had been suffering from an illness, according to Didier Grumbach, the president of the Chambre Syndicale. He is survived by two daughters.
The son of a Parisian psychiatrist, Scherrer studied fashion before starting his career at the house of Christian Dior in 1956, where he worked closely with Yves Saint Laurent for several years. He eventually started his own business in 1962, opening a store in Paris and quickly gaining traction in the U.S., where his designs were picked up by Bergdorf Goodman. He went on to dress many female celebrities of the era, including Sophia Loren, Raquel Welch, and Jackie Kennedy (pictured leaving his atelier, above). He was known for his aristocratic clients and his classic, conservative silhouettes, although he did occasionally branch out with dramatic animal prints and feathers.
Through a series of business deals, Scherrer lost control of his company and was eventually dismissed from the label by its owners in 1990. It was later designed by Erik Mortensen and then by Stéphane Rolland from 1997 to 2007, when it officially closed.