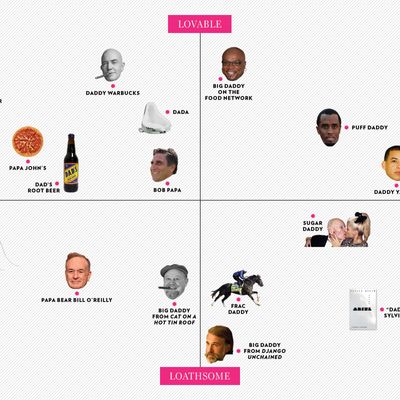 When it comes to gender-charged debates and viral phenomena, fathers tend to get short shrift. This is either a blessing or a disappointment. Fathers rarely endure the pageantry of hate surrounding women like Tiger Mom, Tanning Mom, Dance Moms, and the Park Slope moms on Urban Baby.
This reprieve must be a relief. But the diminished attention also means there are fewer discussions of fatherhood. "Having it all" is still considered a women's issue. "Daddy Wars" don't exist, yet. Stay-at-home dads go by the phonetically unfortunate acronym SAHD. Constructing the paternal version of the Cut's Mother's Day Mom Matrix — charting sexy, sexless, lovable, and loathsome figures with Dad, Daddy, Papa, and Father in their names — was much harder than constructing the female version.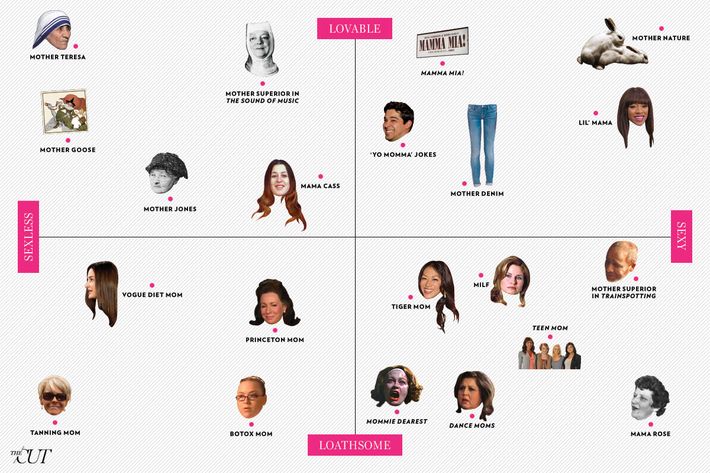 Daddy Matrix characters were particularly difficult to categorize on the vertical lovable-loathsome axis, perhaps because paternal figures are rarely as polarizing as maternal ones are. Meanwhile, the lower left sexless-loathsome quadrant HAD few contenders, perhaps because words like frigid and strident rarely apply to men. Male buffoons aren't loathsome but lovable, like bumbling Berenstain Bears patriarch Papa Bear.
There were also more animals.
If you are unfamiliar with any of the above dads, here's a browsing guide to the best articles, videos, and online resources for discovering (or rediscovering) them.
Papa Bear Berenstain is the patriarch of picture book family the Berenstain Bears. Most people love the Berenstain bears, but sometimes journalists write contrarian essays about why they suck, thereby incurring wrath. For an intellectual take on Papa Bear's legacy, check out From 'The Three Bears' to 'The Berenstain Bears': Situating Daddy as Other, by the University of Hawaii's Kristin McAndrews.
Holy Father is the Pope, the grandfatherly old virgin in charge of a vast, sexually stifled, historically bellicose world religion. Though they take vows of chastity, not all popes are sexless. Currently there are two TV series about the power-hungry family of oversexed 15C pope Rodrigo Borgia and his illegitimate children. Watch The Borgias on Showtime. Watch Borgia on Netflix. I prefer the latter because it shows penises and stars a guy from The Wire.
Father Time is the personification of time. Though he carries a scythe, he tends to be a helpless buffoon. In cartoon series YooHoo & Friends, rapper Flava Flav voices Father Time, who wears an hourglass on a chain around his neck.
Papa John's is a pizza delivery chain that provides garlic dipping goo with every pizza. It's kind of yummy, but the opposite of sexy. CEO John Schnatter "has a passion for being wealthy" and a house is so big, Mitt Romney complimented it.
Dad's Root Beer was invented in thirties Chicago. It introduced six-pack and half-gallon soda packaging and named its bottle sizes as though they were members of a family. "Junior" was seven to twelve ounces, "Mama" was a quart, and "Papa" was a half gallon.
Daddy Warbucks is Little Orphan Annie's adoptive father. His fortune ranged from "ten zillion dollars" to poor enough to rob Annie's piggy bank. The series lasted 86 years and ended in a "completely insane" cliff-hanger involving a "genocidal maniac," man-eating sharks, and Annie held prisoner in a concrete hovel. Read a discussion of the comic's right-wing populism here.
Dada is an early twentieth-century art movement often described as "anti-art." Browse's MoMA's online Dada archive here.
Bob Papa is a sportscaster who does play-by-play for the New York Giants.
The Food Network's Big Daddy is Aaron McCargo Jr., winner of the fourth season of Food Network Star and host of Big Daddy's House. His specialty is soul food and "the flavor of bold." Here are his recipes.
Puff Daddy was the name Diddy used from 1997 to 2001, the era when he dated J.Lo and was found "not guilty" of weaponry and bribery charges following a nightclub gunfight he and J.Lo witnessed while "sipping champagne at 3AM."
"Cat Daddy" is a song by Rej3ctz. There is a "Cat Daddy" dance that Chris Brown does in Rej3ctz's music video. At a Terry Richardson photo shoot, Kate Upton did the "Cat Daddy" in a bikini, and the result was more pornographic than most people's sex lives are, even though she was technically clothed. YouTube banned (then un-banned) Kate's "Cat Daddy." Vogue described Kate's "Cat Daddy" as "no more shocking than any pulchritudinous teenager frolicking in the beach."
A Leather Daddy is a burly man who likes to wear leather either as a subset of the BDSM community, a genre of gay sexual expression, or both. Read about "daddies" as a genre of the gay community here. Read a profile of "Peter Marino, the Leather Daddy of Luxury" here.
Daddy Yankee is a Puerto Rican rapper known for an extremely confusing gay kiss scandal and his work campaigning for John McCain. He's pretty hot. On the off chance that he's a deeply closeted gay man suffering some sort of psychosexual torture, I am refraining from calling him "loathsome." Here's a music video where Daddy Yankee points at the camera while bikini-clad ladies rapidly shake their butts.
GoDaddy is a domain registrar and web-hosting company. Its ad campaigns feature tons and tons and tons of breasts. Here's an interview with "The Woman (!) Behind GoDaddy's Tasteless, Effective Super Bowl Ads."
A Sugar Daddy is an old man who attracts a young, hot significant other with his wealth. He gives his young lover "sugar," i.e., money and gifts. Want a sugar daddy? Read "How to Find Your Own Sugar Daddy (Like I Did)."
"Daddy" is a poem by Sylvia Plath. It's about Nazis and Electra complex stuff. Read it here.
Frac Daddy is a racehorse. He was in the Kentucky Derby. His name honors his Montana oil barons' source of income: fracking. Since he's a literal stallion, Frac Daddy is sexy.
Django Unchained's Big Daddy is a plantation owner. He has slaves. Django shoots him. Watch Miami Vice actor Don Johnson, who played Big Daddy, do a Quentin Tarantino impression here.
Cat on a Hot Tin Roof's Big Daddy is the family's patriarch and a cotton tycoon. He has cancer. He yells at his possibly gay alcoholic son. Here's the trailer from the 1958 Cat on a Hot Tin Roof movie, starring Elizabeth Taylor, Paul Newman, and Burl Ives as Big Daddy.
Papa Bear is also Bill O'Reilly's nickname, mostly at the behest of Stephen Colbert, whose Colbert Report persona is based on O'Reilly, a man who finds falafel sexy. (And is thus sexless, except to food fetishists.) Watch a compilation of Colbert directly imitating O'Reilly here.
Daddy Longlegs is a terrifying arachnid that cannot hurt you, but is scary anyway. Here is a rigorous debunking of that myth that daddy longlegs are "the most poisonous spiders, but their fangs are too short to bite humans."