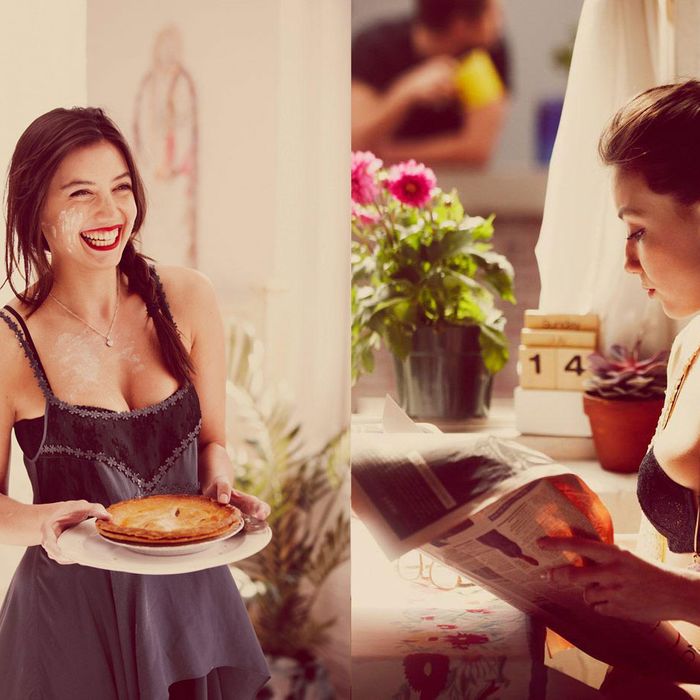 Daisy Lowe.
Photo: Courtesy of Free People
On a cold, cloudy spring afternoon in Brooklyn, model Daisy Lowe is wearing a bra and jeans while a makeup artist fusses over her. "It was warmer in London, which is a real bugger!" she says cheerfully. At 24, she's been modeling for over a decade, and has mastered the art of small talk with strangers while dressed in her underwear. 
Our surroundings, an old mill turned photography studio, is set up to look like a quaint apartment, complete with a messy bed, a tea set, and flowers in the windowsills. Lowe is there to shoot a lingerie look book and accompanying video for Free People, the boho-style clothing label whose previous faces include bold names Karlie Kloss, Sasha Pivovarova, and Crystal Renn. Shot by Guy Aroch, the campaign has a "plot" — Lowe plays a girl with a crush on her cute neighbor who spends the day parading in front of her windows dressed in girly underthings.
Of course, Lowe herself would do nothing like this in her own home. "I live on the ground floor, so I have these lacy curtains during the day and then as soon as it gets dark, I'm like, 'Blackout blinds! Shutters!' I like being more private."
This is understandable: Her personal life has been the subject of intense scrutiny since she was 15, when a paternity test proved that her father was actually Gavin Rossdale, Gwen Stefani's husband and the front man for Bush. Her mother, singer turned designer Pearl Lowe, initially named her then-husband, Bronner Lowe, as Daisy's father on the birth certificate, but later confessed to having a one-night stand with Rossdale (who, to make matters even more confusing, was also Daisy's godfather) in a subsequent memoir, All That Glitters.
These scandalous developments coincided with Lowe's booming career. In 2004, she signed on as the face of Agent Provocateur, and soon appeared in campaigns for Louis Vuitton, Burberry, and Marc by Marc Jacobs. At age 17, she began modeling full time, and spent the next four years "living on a plane," as she puts it, her voice low and husky. She became a muse to Karl Lagerfeld, walked dozens of runways, and appeared in every magazine from Vogue to Playboy, all before the age of 21.
Ultimately, her ubiquity took its toll. "It actually made me really ill," she says of all the traveling, citing a "kidney situation" that required time off. "I had to sort my health out, so I decided to pull back from the modeling stuff for a bit and really look after me from the inside out." She bought a house in London and spent a year "setting up home," which she could talk about "for hours."
Lowe now takes her domestic life very seriously, and rattles off a list of recipes she's been working on. "I'm a fan of a big roast or a bolognese, but I also love baking," she says enthusiastically. "Lately I've been making a lot of vegan, raw, yummy treats. So many of my friends have body issues, and I'm just like, look, even if you're a size 12 to 14, it's beautiful and curvaceous and incredible! Instead of having loads of Haribo, let's go make a chocolate and avocado torte, with loads of amazing nuts and dates!" She goes on to describe raw chocolates made with mesquite powder, cacao butter, and goji berries soaked in agave.
Lowe has always been an outspoken proponent of healthy eating and body confidence. Even at the impressionable age of 18, she was unapologetic — even gleeful at times — about being on the larger size for the industry. "I'm a [U.K.] size 8-10, which does make me big as a model," she told a British newspaper in 2007. "But I'm hoping to change the whole size-zero debate by absolutely refusing to lose weight."
Since her modeling hiatus, Lowe has also started acting, although she's well-aware of the cliché. "I met this wonderful director who also does classes, so I asked her if she would mind having a few sessions with me. She would just invite a few of her actor friends over to my house, and we'd read plays and movies together and she'd direct us." Last year, she shot her first film, Confine, starring Game of Thrones' Alfie Allen and Inkheart's Eliza Bennett, which comes out this summer. "It's really little," she says, "but it was something fun to cut my teeth on."
Like many models turned actresses, she finds both professions have lots in common. "On photo shoots I've always had to do that —  take direction and whatnot. I just did some pictures with a Bonnie and Clyde theme, and they asked me if I could make myself cry. And I did!"
Now that Lowe's modeling work has started to pick up again, she's much more selective. "I only travel one or two times a month, because I'm in a position where I pick and choose jobs, and do projects where I get to play a character." If she had to envision her second act in, say, ten years? "I would want like, model-slash-actress-slash-designer-slash-mother-slash … cook! I just like having my finger in loads of pies all the time. And, you know, singing is fun … " she trails off, and suddenly looks down at her bra. "I hope it's okay I'm just talking to you in my knickers!"