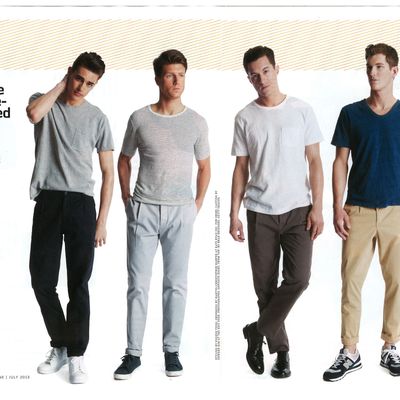 Pleats are one of those fashion things — like jorts, or culottes, or clogs — that people like to hate on by way of social conditioning: We've been made to believe they were terrible since we were young, when our collective Dad wore a pair of Sears chinos that were the color of a brown paper bag and had two or three pleats on each side of his waist, causing it to billow out and scrunch back in — like, again, a brown paper bag. That's why I'm not surprised that Choire Sicha, of the Awl, picked up on a spread in Details ("Make Room for the Single Pleated Chino") and easily, perhaps lazily, proclaimed that "none of this is okay," these single-pleated pants.
I beg to differ. Choire casually and somewhat confusingly mentions that these are "not pleats on both sides of your forward-facing business," and that they're "asymmetrical." But, just in case anyone's confused, these excellent pants do, in fact, have pleats on both sides of your "forward-facing business." And what glorious pleats they are. Restrained, elegant even. They're single, standing on their own, as the name suggests, whereas Dad's pleated chinos usually had several sewn-in creases on the left and the right leg. The single ones have a minimalist's charm to them. Like something from The Talented Mr. Ripley. Something Jude Law would wear. Or Matt Damon when he's skinny.
Pleats do for men what darts have done for decades in women's clothing: They enhance fit while providing an extra, slight, design element — something to separate great chinos from all those other pants men in your office wear. Personally, as a guy who's on the shorter side but has bigger upper legs (thighs, right?), the line that a pleat creates helps balance everything out. It creates the illusion of length. It's similar to the way a wool suit's pants should always have a crease running down them, the sole reason for owning an iron.
Besides the pure aesthetic improvement, we're also living in a certifiable and somewhat boring flat-front era of pants. This is partly because of Urban Outfitters and J.Crew and these superlative straight-fit pants by Dockers called Alpha Khakis, which were launched a few years ago, all of which have expanded the khakis' reach beyond accountancy offices. Cotton chinos are cool again, for the first time since the Gap'd-out nineties. And everyone is wearing flat-front ones, mostly. Even women.
And while I fully understand that men, and probably women, will take one look at pleats ("oy, pleats," one colleague just said to me) and think they're meant to stay away from them — lest they get made fun of by everyone, even their children — I say go for it. Absolutely. Lean in. It's a small experiment to play around with this summer, when it's humid out, and your "forward-facing business" could probably use a little breathing room, anyway.