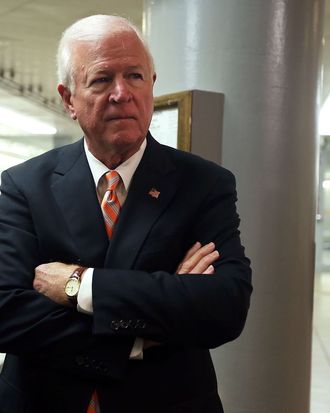 Photo: Alex Wong/Getty Images
Judging from EMILY's List e-mail blasts and DNC Chair Debbie Wasserman Schultz's remarks on MSNBC, Politico is pretty sure Democrats are planning to repeat the surprisingly effective "war on women" strategy in the 2014 election.
The most recent gaffe came from Georgia Senator Saxby Chambliss, pictured, who echoed amateur zoologist Erick Erickson during Tuesday's Senate Armed Services Committee, when he suggested that military sexual assault is an unfortunate side effect of nature and not, as fellow committee member Senator Claire McCaskill stressed, an abuse of power. "The hormone level created by nature sets in place the possibility for these types of things to occur," he said. Sure enough, a slew of Democratic legislators offered Politico condemnations of Chambliss — and he's not even seeking reelection in 2014.