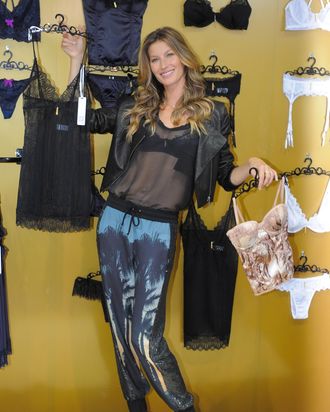 Gisele.
Photo: AGSP/AKM Images/GSI Media
After posting several pictures of herself in her underwear on the Internet, Gisele Bündchen made a personal appearance to shill her lingerie line at a mall in Sao Paolo yesterday. In front of adoring Brazilian crowds, she clasped plastic hangers full of bustiers and teddies and posed for pictures in the most curious outfit: a lacy bra of her own design layered beneath a sheer top, leather jacket, and palm tree pants. Why such a combination of beach/club/underwear? Let's explore further.
The shirt: Why did she even bother, really? Her willingness to show off her wares is commendable, but this fabric is so sheer that it's basically just an impediment to seeing how carefully she scrubbed her belly button. If she really wanted to "cover up," why didn't she wear a bustier or something? Also, how interesting that she tucked the whole bottom into her silky track pants. Usually such ensembles call for a half-tuck, J.Crew-style. Apparently when your shirt isn't really a shirt but more of a veil, different rules apply.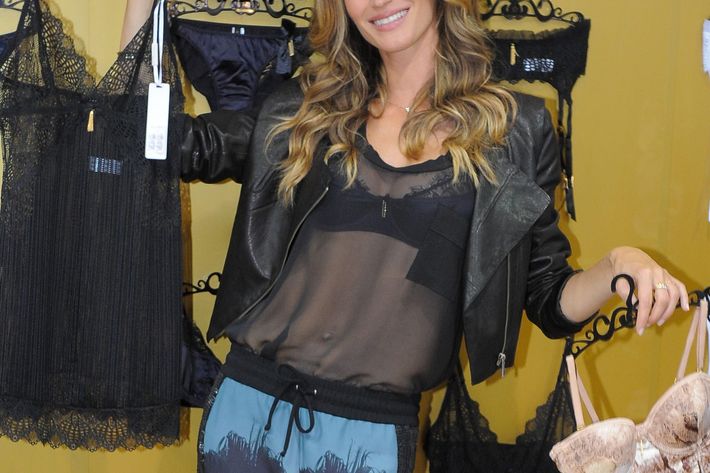 The jacket: Clearly an afterthought. Maybe she was chilly, and worried about a nipple situation (that bra looks unlined). Mall air-conditioning can be a real beast.
The pants: Perhaps a nod to her tropical, easy-breezy locale, these fall under the category of "fashion" track pants, in that they're silky and sequined but still have a drawstring and elasticized bottoms. They look comfortable, for sure, but the palm trees and sparkles are distracting. How can we focus on her bras when she's wearing a beach scene on her thighs and sequins on her butt? Also, Gisele, we know your legs are long. No need to rub it in by pasting tree trunks on them.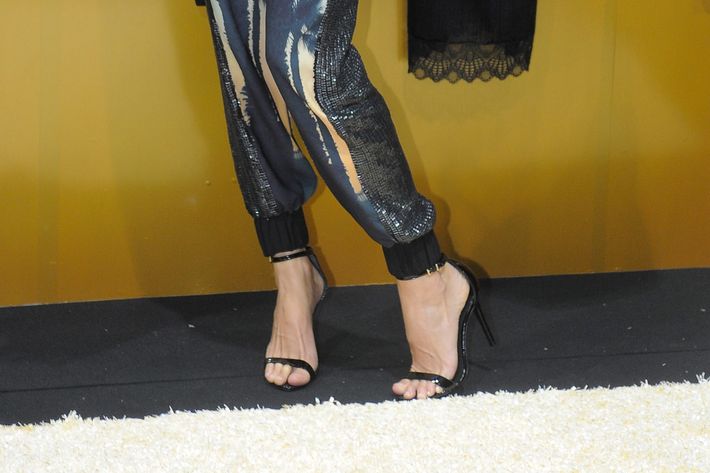 The shoes: They're meant to convey that indeed, this is a sexy and carefully planned ensemble. Nothing ties it all together like strappy heels and a nice pedicure, right? Right?