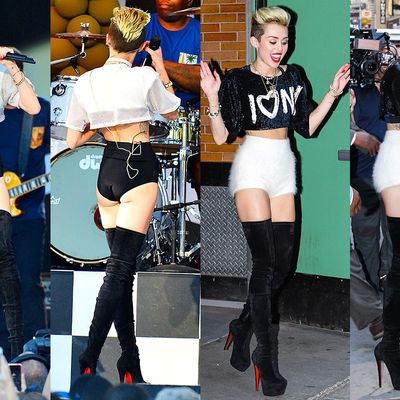 Promoting her song "We Can't Stop" and other personal reinventions this week, Miley Cyrus unveiled a new silhouette, and wore it twice in two days. The look has three components: (1) voluminous, swingy crop top, (2) high-waisted granny panties, (3) thigh-high platform stiletto boots. (Click to zoom.) Though Miley increasingly favors leggy and ab-baring outfits, this particular configuration is new.
The outfit at left appeared two nights ago on Jimmy Kimmel Live. The top has the mesh fabric and structured shoulders of a football jersey; the turtleneck also alludes to autumnal outdoor athletics. (For some of the performance, she wore a varsity jacket.) Paired with bare legs and square-shaped hair, the look also recalls Grace Jones by combining several of her signatures: square hair, square shoulders, leotard-cut bottoms, and thigh-high boots.
The best thing about Miley is that even in severe clothing, she has an absurdly expressive face.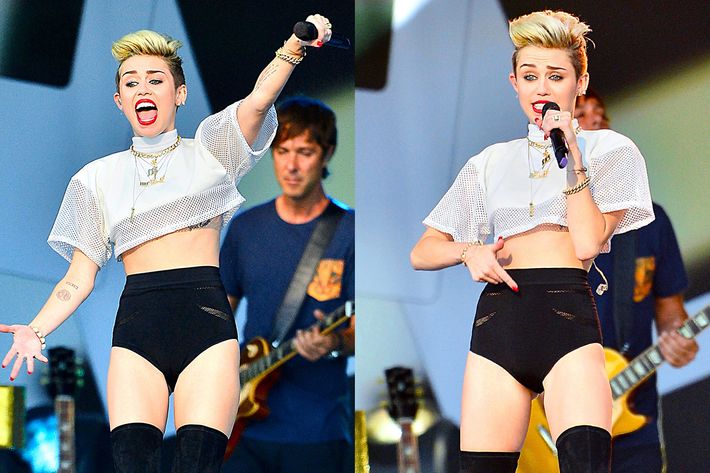 In the other iteration of her new silhouette, Miley paired a sequined "I Heart New York" top with fluffy (angora?) granny panties and her favorite Christian Louboutin thigh-highs. She wore this look on Good Morning America. Bold is the woman who wears thigh-high platform stiletto boots before breakfast.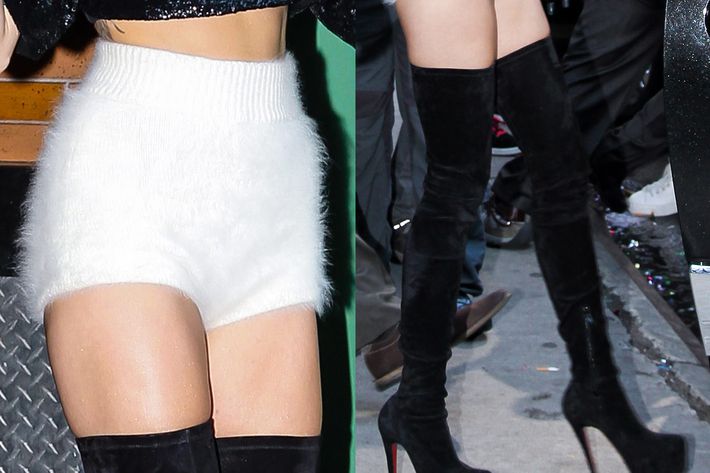 What should we call this silhouette? She is long and skinny on the bottom, loose and voluminous on top. Cocktail toothpick?