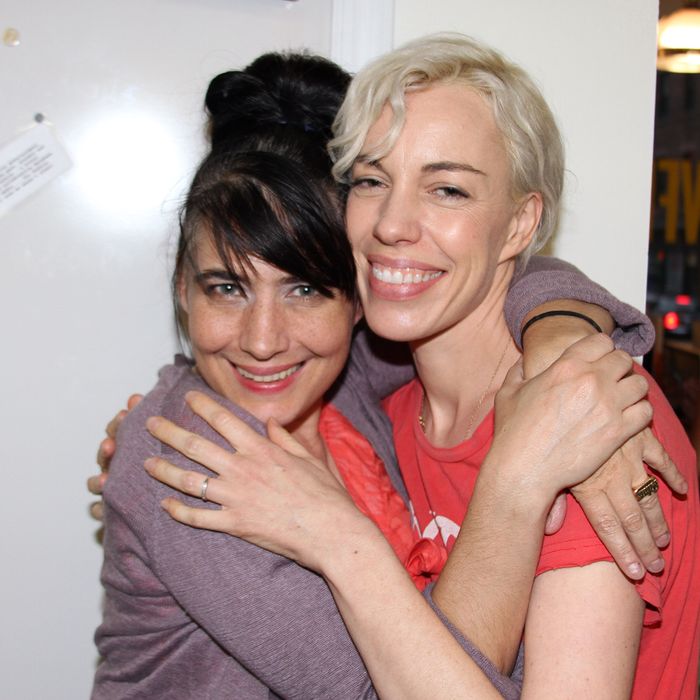 Photo: Courtesy of VFiles
"This is exciting," Bikini Kill and Le Tigre frontwoman Kathleen Hanna says. "We never get asked about fashion."
Hanna and Bikini Kill bassist Kathi Wilcox are tucked behind a makeshift bar of single-serve champagne bottles in the Soho storefront of VFILES. The punk band and fashion media outfit have collaborated on a capsule collection, which launched yesterday, to celebrate the release of The Riot Grrrl Collection — a book of zines and other ephemera from Bikini Kill and other bands in NYU's riot grrrl archives.
Hanna and Wilcox drink Perrier and sign a copy of The Riot Grrrl Collection for an uncharacteristically star-struck Leigh Lezark before chatting with the Cut about the origins of the collection's dress. A black, short-sleeved t-shirt dress that reads "KILL ME," it's based on a similar number, in red, that Hanna wore to 1993 abortion rights benefit concert Rock for Choice.
"It was red and it had holes cut out on the sides," Hanna says, gesturing to her ribs. "And I ironed on the letters." The message was part reference to the Richard Hell design from which the punk oral history takes its name, part response to the attacks Bikini Kill faced at the time. In addition to the men who threatened the band at shows, she says, "women were saying we weren't doing feminism right, journalists were like, 'somebody should put tape on her mouth.'"
"It was along the lines of 'slut,'" Wilcox adds. "A way of saying, 'I'm going to take the words out of your mouth. I know this is what you want to do.'"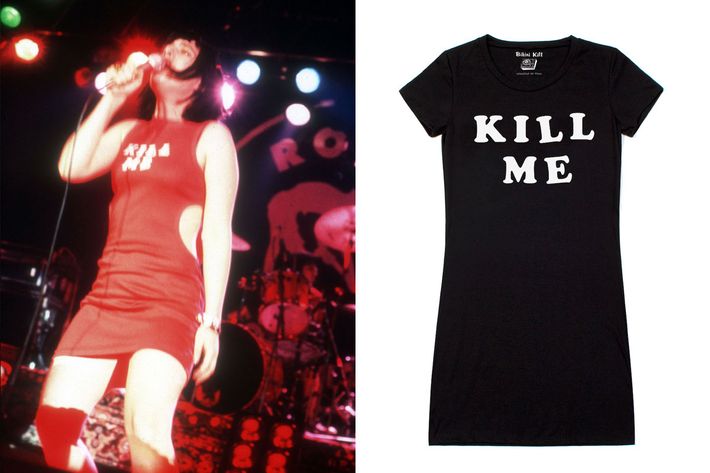 Writers and critics tend to focus on Bikini Kill's politics and feminism, but Hanna says she put a lot of thought into her on-stage outfits. "Fashion really was a big part of our band, and we really liked goofing around with fashion, but people think it's antithetical to feminism."
On the contrary, she says, she used costumes to play with gender, like the hairy-chested pirate costume she cut into a shirt and paired with a Betsey Johnson miniskirt, or the dress with a photo of a Speedo-clad "Chippendale's kind of guy" on it. ("It was the man inside me," she says.) Others, like a Girl Scouts uniform, spoke to their anger at having been "ripped off" of their childhoods. "You remember the times when you were 15 and you should have been having fun but guys were driving past you in pick-ups, calling you names or trying to get you in the car," Hanna says.
Hanna felt compelled to explain the Kill Me dress to the Willie Mae Rock Camp for Girls, which, along with other members of The Girls Rock Camp Alliance, will receive proceeds from the collection. "The idea is: What constitutes asking for it?" she says. We accept that women who wear revealing clothing invite commentary on their body. Hanna wonders, "If you wear a dress that says 'kill me' on it, does that mean you're asking for it?"
Nineties fashion is not the only aspect of Bikini Kill's moment that remains stubbornly relevant. From Slut Walk to Rookie, a new generation of young women appears to be drawn to riot grrrl politics. Hanna herself has called Bikini Kill's first album a gateway drug to feminism. If she had known riot grrrl would appeal to girls for decades to come, is there anything she would have changed about its message?
"There was a lot of imagery of white women in riot grrrl and it seemed like a very white thing," she says. "In different states, there was way more diversity, and whenever people say riot grrl was all white, I feel like all the women of color — who were involved and contributed and whose voices are in The Riot Grrrl Collection — get totally erased. But at the same time, I have to admit I was a white middle class woman writing from that perspective, and that became associated with the riot grrrl look."
"I don't…" she begins. "I do. I do feel bad about it. I wish it would have felt more welcoming to more women and younger women of color."
It's almost dinner time, and Hanna and Wilcox have come straight from band practice (a new album is due from their current group, The Julie Ruin, in September). A publicist rushes over with Sour Patch Kids and salt and vinegar chips. Hanna declines, joking, "We, like, only eat kale."
Video of Kathleen Hanna reading the riot grrrl manifesto via The Henry Review.