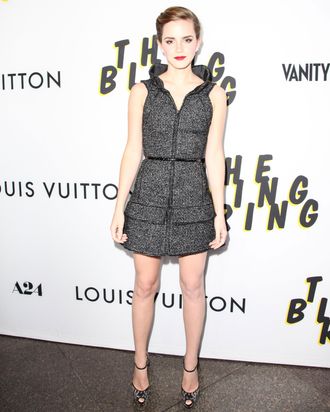 Photo: Aleks Kocev/BFAnyc.com
Paris Hilton's eyes clouded with tears while watching The Bling Ring in Cannes because she claims that it was the moment she realized she had been violated — by children. But considering that the film doubled as a glitzy Paris Hilton roast — from the same kids laughing about her lack of intelligence to making snide remarks on her gargantuan shoe size — we're guessing her tears were also fueled from those moments. But it appears that some of the anti-Paris sentiment wasn't entirely acting, at least in Emma Watson's case.
In an interview with Radio Times, the gifted actress, who plays teen burglar and party girl Alexis Neiers in The Bling Ring, shared her thoughts on Hilton's overflowing wardrobe. "She could never wear all of those clothes and half of them were brand new and still had the price tag on. But I suppose she just bought them to have them. We've all bought things on impulse but that's an entirely different thing … It's almost like consumerism as a form of kleptomania." And to forever distance herself from Neiers and celebrities like Hilton, she added, "I've got about eight pairs of shoes and that's it." To clarify, that's eight pairs only. But who knows? Maybe a pair of Louboutins or Neiers's infamous "four inch little brown Bebe shoes" are part of that exclusive collection.