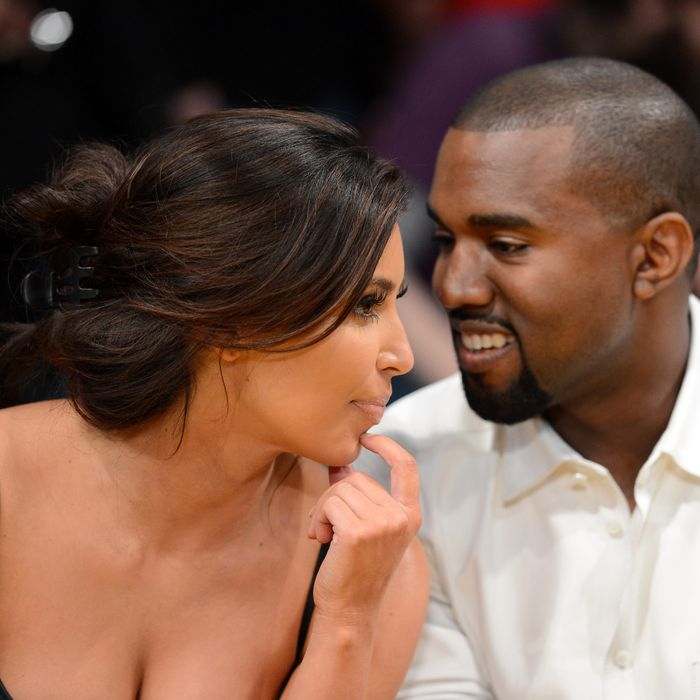 Photo: Harry How/Getty Images
Last night, in the middle of the NBA championship game and as violent protests swept Brazil, the Internet ground to a halt. "The birth certificate is out," Us Weekly announced. Kimye's baby's birth certificate, and the name on it was not Kaidence Donda West. It was not Klementine Star West. It was not a symbol, an Emoji, or beautiful sound. It was North West. North West! Here is everything we know about this thrilling new name that I have concluded is, in fact, perfect:
• North West.
• "They will call her Nori for short."
• Northwest Airlines ceased operations in 2010, so it's not product placement.
• TMZ broke the news after seeing the birth certificate last night, but In Touch actually reported "North West" on Tuesday: "They're not totally sure about it. Kanye loves it, Kim is okay with it," said a "close friend of Kim." 
• In Touch's source also noted, "The family doesn't like it."
• No silent k on the birth certificate.
• No middle name on the birth certificate.
• In navigation, northwest is known as an ordinal, intercardinal, or intermediate direction. On a compass, arrows marked with ordinal directions are called half compass points. If Kimye adds a second "North" as a middle name — North North West — the arrow marked with the baby's name would be called a false point. 
• Probability that Kanye writes a song with the phrase "true north" in it: 98 percent
• Probability that Kanye makes a pun about the pole with which he made North: 42 percent
• Probability that they have another child, and that child's name is another ordinal direction: one percent
• As far as creative baby names go, I give this name 1.5 Blue Ivys. Like Beyoncé and Jay-Z's baby name, Kimye's is interesting enough to draw attention but normal enough that you already know how to pronounce it. But it is also a theme name, in the manner of Krystal Ball, which adds just enough material to enable 45 seconds of small talk at the buffet table of a summer wedding. This low-level piquing of interest is what makes North West a thoroughly Kardashian name, even if Kanye (and his sometimes cheesy sensibility) chose it. For the Kardashians' greatest feat is their ability to draw attention without doing anything that is actually interesting. They are masters of the banal spectacle, turning household monotony and Kim's swollen feet into news events. In that sense, North West achieves Kardashian, and is thus a great name for Kanye and Kim's daughter.