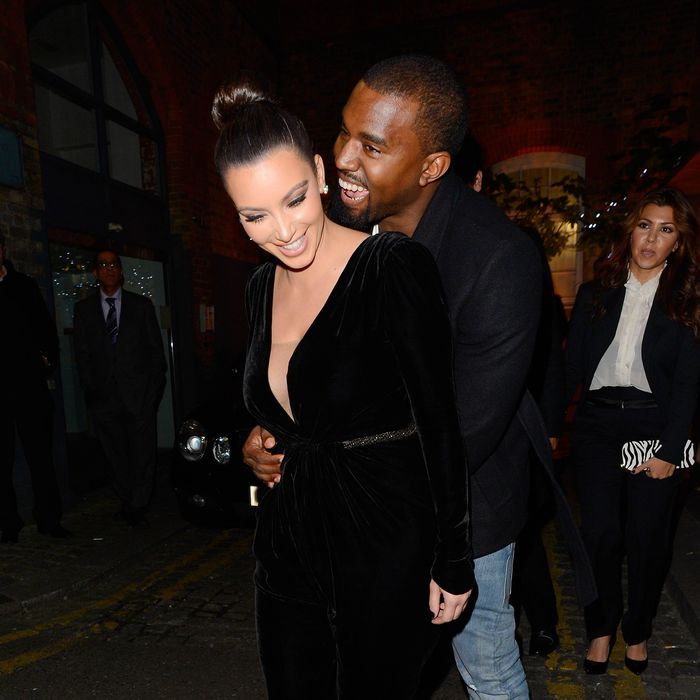 Photo: Michael Jaworski/FIlmMagic
As you have perhaps heard by now, Kanye West's baby sprang from Kim Kardashian's loins on Saturday. Born one day before Father's Day and three days before Kanye's Yeezus album release, the much-anticipated infant could go platinum by the end of the week. Here's what we know about 32-year-old Kim and 36-year-old Kanye's baby so far:
• Girl.
• "Less than five pounds" after a birth that was reportedly five weeks early.
• Name unknown, but it "will start with a K."
• Kimchee. Kaya. Kite. Kale. Kinetoplastid protozoa. (Just spitballing.)
• "She has dark hair. She looks just like Kim," reports E! News.
• No pictures yet, but lots of creepy artist renderings. Daniel Edwards, the artist who imagined Britney giving birth on a bearskin rug and Kim as a fertility goddess, recently cast Kimye's baby in bronze. Update: Kim's ex Reggie Bush "debuted" the baby he had with his "Kim lookalike" girlfriend yesterday. If Kim's baby "looks just like Kim," and Reggie's girlfriend "looks just like Kim," then maybe the babies look alike, too? Reggie's daughter's name is Briseis, so let's add "Kriseis" to the Kimye baby name list.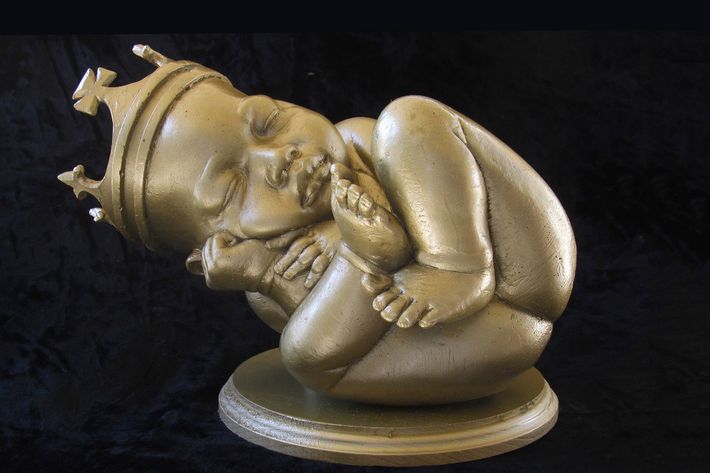 • "[Kim] started having contractions Friday night and went into full labor early Saturday AM," TMZ reports. "E! Online—home network of the Keeping Up With the Kardashians—reported Kim had a natural childbirth. But witnesses said that she was wheeled into a recovery room reserved for mothers who had given birth by Caesarean section," notes a suspicious New York Daily News.
• Last night's Keeping Up depicted Kim hospitalized with an appendicitis and stomach infection, mid-pregnancy. "It feels like I am in labor. Why is this happening to me? I hate it; I can never do this again," she said.
• Kanye was present at the birth and canceled his appearance at a release party for Yeezus. After spending time with her new grandchild at Cedars-Sinai hospital, Kris Jenner walked the red carpet for the Daytime Emmys last night. The baby, she said, is "beautiful" and doing fine.
• Report from the trenches: "It is pandemonium in here, but Kanye is celebrating his first Father's Day. This may finally make him not so angry all the time. He may soften up because he has always wanted a girl."
• Early visitor list also includes Lisa Gastineau, Brittny Gastineau, Jonathan Cheban.