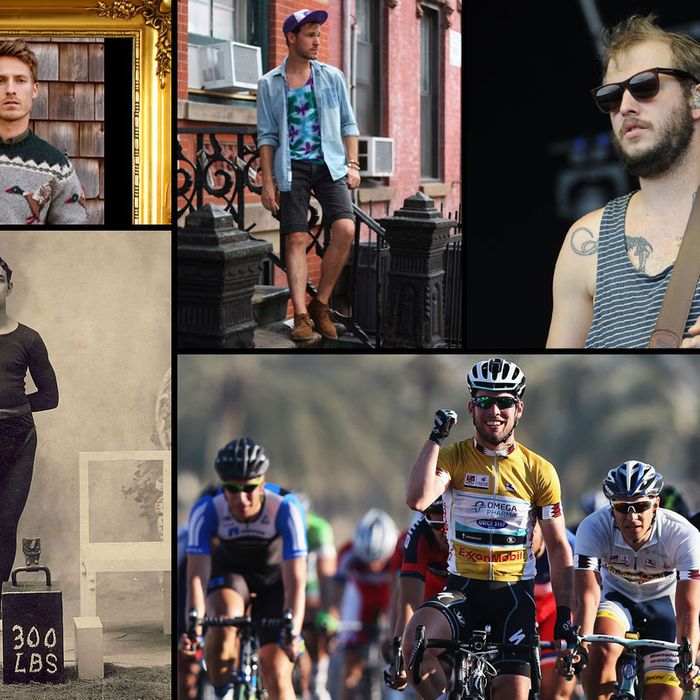 Elizabeth Pride, a 23-year-old social worker in Philadelphia, was feeling homesick for her native Maine. While Facebook chatting with a friend one night last winter, she started joking about being single, and things took a decidedly Northeast turn: "I said my ideal man would look like an LL Bean Model. I kept making jokes like, 'I want to build a fire with this man.'"
Pride uploaded a hunky photo of an LL Bean model in wicked good flannel to Tumblr, added a caption — "'We don't have to paint the barn door today,' said Daniel. 'Let's go sailing instead.'" — and a viral website was born. The Tumblr, Your LL Bean Boyfriend, remains just as popular today by imagining a world where the broad-shouldered, strong-jawed, capital-M man is as sensitive as he is outdoorsy, bringing you extra marshmallows for your hot chocolate and cooking you breakfast in bed with organic eggs.
Ideal Boyfriend websites, as you might call them, are a form of romantic storytelling that has sprung up in the new decade. Consider them an offshoot of the female-dominated world of fan fiction, distilled into the meme of one dreamy but tender man — Ryan Gosling — and his made-up catchphrase, "Hey Girl." The sites are a fun way for grown-ups to update and critique the squealing tween sexuality of ripping out a One Direction centerfold from Tiger Beat. And while the Ideal Boyfriend genre has ping-ponged around the web in various forms — Bangable Dudes in History, or the Elliott Gould–chic of Nerd Boyfriend — it has found its perfect goofy-yet-adoring form on the image-heavy, text-lite world of Tumblr, purchased by Yahoo last month for a billion dollars.
On that network, Ideal Boyfriend websites have multiplied, including Bangable Dudes in Pro Cycling, Hotties From History, and Your Urban Outfitters Boyfriend. What makes a site like this last beyond a three-month stint is a particular combination of good-looking men and a narrative both romance-novel-worthy and strange: Along with Your LL Bean Boyfriend, the best out there include Bon Iver Erotica — an epic tale of living an authentic farmsteading life with the sensitive indie rocker, using his promo shots as source material — and My Daugerrotype Boyfriend, where ye olde photos of nineteenth- and early-twentieth-century poets and gentlemen lead to ye olde lustful feelings.
Like Pride's Facebook chat jokes, Bon Iver Erotica was born out of similar desires for a man rugged enough to birth a foal and thoughtful enough to take you for a picnic on a mountaintop. Three writers in Boulder, Colorado — Anna Sawyer, Alice Warren-Gregory, and Alex Finkel (a man) — discussed the "mystical, romantic, brusque-yet-sensitive woodsy appeal," Sawyer says, of musician Justin Vernon, as embodied by a YouTube video of him playing the piano and singing.
They weren't even fans of the music, but after they put the jokes on Tumblr, the site went viral in 24 hours. While a certain rugged style has crept into menswear recently, the real life of the men wearing Carhartt and Filson in cities often doesn't match up to the workwear roots of those brands, or the guys who originally  wore them. In Pride and Sawyer's world, the hipster Americana costume of cool is rewritten into an indulgent, appealing fantasy where men still exude that industrial masculinity while also being handsome enough to make a throwback vest look good.
Other sites, like My Daugerrotype Boyfriend, the project of Lapham's Quarterly associate editor Michelle Legro, celebrate different types of semi-abandoned masculinity. It was a natural evolution from another Tumblr blog, Fuck Yeah History Crushes: "I saw a post on this criminal portrait from the Newcastle City Gaol circa 1871," Legro told the Cut. "Each portrait included the prisoner's crime and a few salient facts. The entire database read like a dating profile for a bunch of badasses who liked grifting, stealing boots, and sneaking into houses." The idea being that these guys are tough, yet not as rough (and much more attractive) than men in contemporary mug shots.
Maybe the greatest metric of these sites' success are the spinoffs: Bon Iver has yielded Aurotica, "a site where a girl reads our posts aloud," Bon Iver Breakup Stories, and Bon Iver Sad Stories. LL Bean has been the catalyst for other crushed-out sites on catalogue models, and even Jezebel got into it, riffing on Your Carhartt Boyfriend. As of yet, no successful sites with women characters exist, even though Pride has worked infrequently and unsuccessfully on Your LL Bean Girlfriend.
With so many men on display, are these websites a long-overdue phenomenon? A guilty pleasure? A future novelty book? (Possibly; Pride and Sawyer mentioned book proposals, Legro has sold her own My Daugerrotype Boyfriend calendars.) Or a journey into a distinctly different female gaze? For Pride, the roots of LL Bean could be explained by women's studies: Instead of seeing female sexuality as shameful, she says her "underlying nefarious plan is to make people see that it's okay to look and explore the things they like." Sawyer, on the other hand, calls Bon Iver "idiotic art. At the end of the day, I'm doing it because it's hilarious." But the feedback is often more sincere than that: "Some of the women reading really want this," she adds. "We get these passionate e-mails saying this is my dream date." Of course, the longing (whether funny or not) doesn't always match up to the reality: When Vernon's ex-girlfriend, musician Kathleen Edwards, first found Bon Iver Erotica, she responded on Twitter: "A girl can dream."
But that idea persists online, away from the reality of dating, where people don't even use the words boyfriend or girlfriend and connection can be mediated or ruined by screens. An Ideal Boyfriend won't stare at his iPhone while on a date; he'll pay attention to you and take you to the beach, where he'll make you a bonfire with wood that he chopped in the morning. Most important, an Ideal Boyfriend — or the very existence of his type — makes you laugh. If the Tumblr generation of young women is free to fan over the likes of Benedict Cumberbatch without being mocked, an Ideal Boyfriend website is one step beyond being a Cumberbitch, taking impossible love and layering a funny story on top.
In other words, these websites give women a safe space to laugh at their desires, where they can explore the idea of what they want in a partner in a socially-relevant way. What gives these sites their viral appeal is the air-quotes-like ironic humor at play, especially when compared to, say, losing your shit over Justin Bieber as a legitimate fan. In that way, these sites don't speak to anything that women want in a partner. They critique the gap — for all of us — between fantasy and reality. Because, after all, it's just a joke. Right?