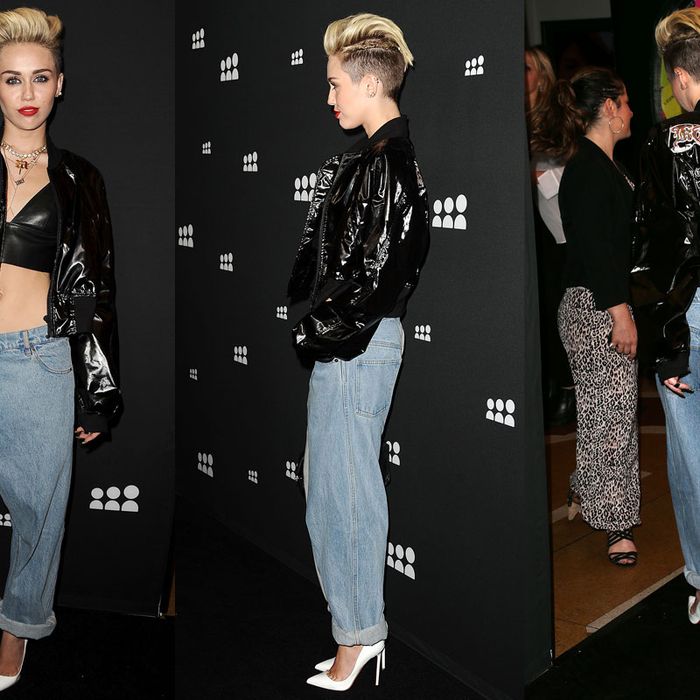 Miley Cyrus recently wore pants that were half jeans, half sweatpants at a red carpet event for MySpace. The reaction has mostly been disbelief. To help you through this time of ?!?!, the Cut is providing answers to all of your questions about her half-jeans, half-sweatpants.
Are those pants really half jeans, half sweatpants?
Yes.
How does that even work?
The left half is jeans. The right half is sweatpants. They are sewn together. Both the zip-and-button closure of the jeans and the elastic waist of the sweats have been preserved.
Are they designer, or something?
Yes. Miley's pants are from Ashish's spring 2013 collection. Designer Ashish Gupta also showed pants that were half jeans, half sequined slacks and half pleated jeans, half normal jeans. On the Internet, you can buy Ashish pants that are half sequined skinny leg, half sequined wide leg. Those pants cost $2,127, so Miley's pants are probably in the four-figure range, too.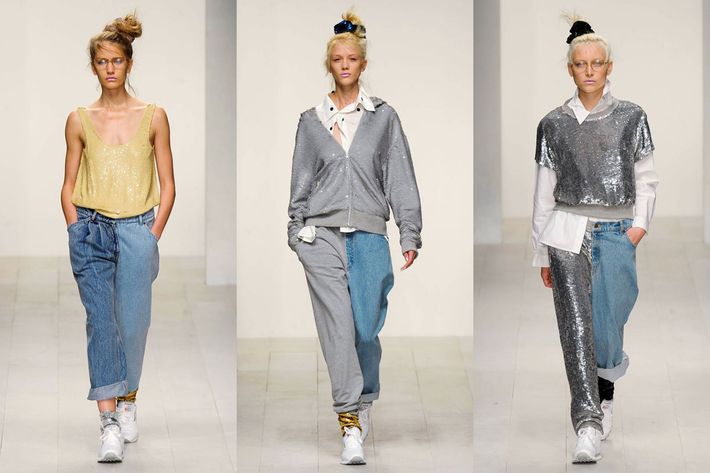 Is there precedent for this?
Yes. Margiela has used the technique. When H&M offered a Margiela diffusion line last year, split-down-the-middle half-and-half jackets were among the re-created Margiela classics. The twin forces of colorblocking and asymmetry have led many a celebrity to half-and-half dresses.
On the denim front, Rihanna wore double-top jeans last week. (She has also worn a denim thong. Wacky DIY denim trend?) The American flag is sometimes reimagined as jeans split down the middle between stars and stripes. Hot Topic sells many "split leg skinny jeans."
Half-jeans, half-sweatpants, though? Miley might be the first. Ashish's sweat jeans have appeared on some personal style blogs, but never before on a red carpet, as far as I can tell. (Feel free to disprove me in the comments.)
What should we call these frankenpants?
For your consideration: sweat jeans; jweats; swenim; sweans; bipolar pants disorder; split pants personality; "She likes to split her legs, heh heh heh"; everything you can steal from your boyfriend's closet all at once. I'm rooting for jweats.
What are the drawbacks to wearing jweats?
Being ridiculed; having your sanity questioned; having one side of your butt get saggy before the other one does owing to differing tensile strengths of fabrics.
What are the benefits of wearing jweats?
Compromise; attention; half-comfort, half-more-comfort.
What is the best face to make while wearing jweats?