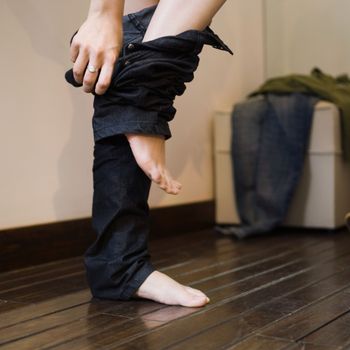 Photo: Sigrid Olsson/Corbis
Today, WWD editor Bridget Foley confessed in her column that she does not own a single pair of pants. For fashion people, this seems particularly weird: Most people who work in this industry own piles of clothes, because they get special discounts and just can't help themselves. Even the most disciplined, jaded editor has a few ridiculous things rattling around in her closet that she never wears, guaranteed.
But Foley insists that she hasn't worn pants in about a decade (they "make my rear end look huge"), and doesn't even know her pants size. Silly as this may be, clothing phobias are not unusual. I, for example, will never wear strappy sandals because I don't like my feet. A woman in our office has the same no-pants rule. And a quick survey of Cut staffers shows that it's common to have a (usually exaggerated) fear of certain clothing items. To review:
Maureen, writer: An old lady once told me brown-eyed girls look bad in blue, and it took me about twenty years to realize I had somehow internalized it and was avoiding blue from ages 5 to 25. But I can't even remember if she was serious! I always wonder what random things I've said that some little girl randomly took to heart. Now I wear blue.
Kat, writer: Pencil skirts. I don't wear heels, so if I wear a pencil skirt, I look like an 18-year-old at a job interview; and if I do wear heels, for the occasion of the pencil skirt, I look like I'm playing dress-up, as a slutty librarian.
Emily, photo editor: Shorts. My hips are too wide, they never fit right, and they ride up when I sit.
Diana, market editor: I refuse to wear a watch. I don't like them and I don't need one. I have a phone.
Benina, social media editor: One of my best friends refuses to wear sweaters because he says it makes him feel claustrophobic. Instead, he wears zip-up hoodies that he takes on and off with his jackets. He is crazy.
Christina, beauty editor: My boyfriend refuses to wear black. He says it doesn't do much for his coloring. And I don't wear culottes, because they make me look like I'm wearing Korean pajamas.
Veronica, market editor: My boyfriend won't wear cufflinks, because he says they're douchey.
And we regular folks aren't the only ones with such fearful habits: Victoria Beckham famously avoids flat shoes, and Anna Wintour almost never wears pants either. (Feel free to share your own banned items in the comments.) At the end of the day, these weird preferences are totally normal, and even good. No one suffers from self-deprivation of clothing, and if you don't like how pants make you look, then of course you shouldn't wear them. It's hard enough (well, "hard") to decide how to dress on a daily basis; having basic ground rules about what not to wear is a smart shortcut to looking halfway decent and accumulating less crap you won't use.