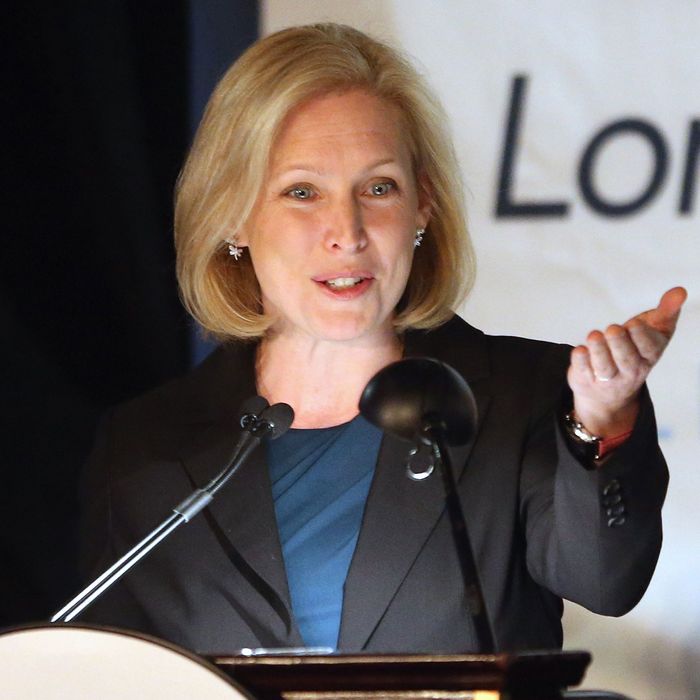 Photo: Bruce Bennett/Getty Images
What is the effect of record numbers of women on Capitol Hill? More congressional purses, the New York Times noted this weekend, and more purse boys to carry them! Happily, the Times also reports it means more female representation on powerful, historically macho committees: a 65 percent increase on Appropriations, Armed Services, Finance, and Foreign Relations over the last decade. The women may account for the military's newfound urgency in tackling its long-standing plague of sexual assault. 
Though the topic was previously brought up by Florida senator Bill Nelson and Maine senator Susan Collins, the Times reports, it didn't take root. Senators Kirsten Gillibrand and Claire McCaskill began asking questions during hearings and publicly excoriating military officials, eliciting even harsher remarks from the president.
On traditional military topics such as the defense budget and weapons procurement and development, women still follow the lead of committee men (who acquired expertise from a kind of military experience restricted, until recently, to their gender), but their presence forces the committee to prioritize the human cost of war. "The men asked all the questions about ships, hardware, that sort of thing," Gillibrand told the Times, of her work on the House Armed Services Committee. "We asked why divorce and suicide rates were so high." Plus, their presence demonstrates feminism as an American value to other parts of the world. "When we travel to Afghanistan and the Middle East and there are women senators there, it really sends a strong message to the world that this is what we stand for. This is what we have," Senator Kelly Ayotte told the Times.