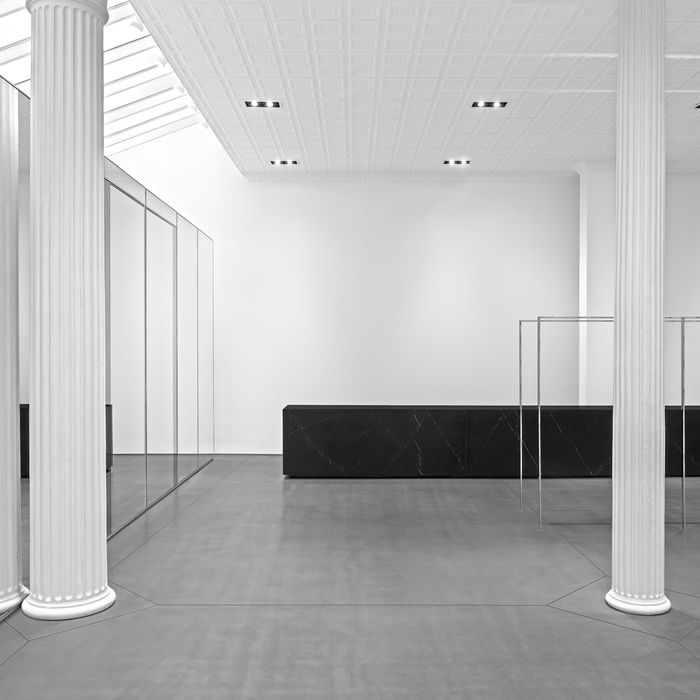 Photo: Courtesy of Saint Laurent
Inside the new Saint Laurent store that opens today at 80 Greene Street in Soho, everything rests in the 4,000-square-foot space with a sexy sharpness. Sleek, white marble shelves stretch the whole length of the left wall of the store. On them, accessories like the Classic Duffle and the Paris Heels have been neatly arranged for maximum fetishization. High, rectangular jewelry cases made of glass and mirror-plated brass reach nearly to the original tin ceilings and show off the entire line of small leather goods and jewelry. From the faceted, mirrored fitting rooms (modeled off of couture salons), to the contrasting warmth of vintage Jean Prouvé chairs, every detail has been painstakingly pored over by Hedi himself. You can tell. Even several members of the handsome staff were plucked from his days at Dior Homme. The notorious perfectionist has left no details to chance on his first new store opening in New York City since taking control of the brand last year.
Showcasing both the men's and women's collections, as well as the permanent collection, this store functions as a one-stop destination for all things Saint Laurent. Cassandre diehards may be appeased with the reintroduction of the YSL logo, rendered in brass on otherwise minimalist clutches. Staples like jeans and classic sunglasses share the floor with more dramatic pieces, like the sequined blazer from the Daft Punk album cover, which can be special-ordered. We fell for an outrageous crocodile version of the Sac De Jour, a one-of-a-kind exclusive to the store that is, sadly, until we become rock stars, out of our price range ($30K, as if it matters).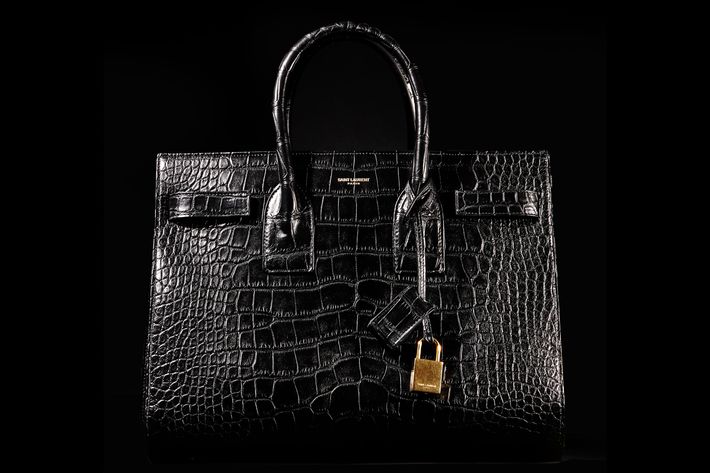 The pre-fall line is on sale now, and as a special feature for the opening, the brand has brought out the press samples from the fall collection. This week, and through the weekend customers can visit the store to place preorders. Or, you know, just get up close and personal with the grunge-inspired looks that created such a riot when they walked in the Paris shows in February.