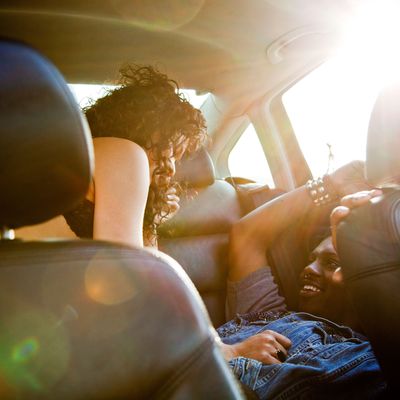 Photo: Adam Hester/Corbis
On the hundred-something first dates I've had, I've been taken to Burger King, the car wash, and an NA meeting; I've left after five minutes, cried after six drinks, and engaged in many unladylike things. But sex on a first date? No way. (Or rather, in the name of journalistic integrity, not that I can remember.)
I'm not sure why sexually liberated women like myself, and most of my friends — women who enjoy intercourse, who browse Coco de Mer, who talk about size and performance like weather and traffic — still live in this lame, antiquated fucking-on-the-first-date fear cave. Sure, there are many smart, justifiable reasons to wait (STDs, comfort zones, intimacy issues, etc.), but simply put, I think we don't want to fuck it up by fucking fast. Experience has taught us women, more times than not, that sex-too-soon equals hungover regret, not long-lasting relationships. And that's the thing: If we're sleeping with a man, we probably/hopefully like him, and we want to see him again. (Of course, sometimes we do it for the fun, the thrill, or sheer physical need, but that's not what this is about.) Alas, even if it's not our rule, and not our world, why risk ruining everything?
When co-authors Andrea Syrtash and Jeff Wilser sent me a copy of It's Okay to Sleep With Him on the First Date (out this month), I was excited to learn their theory, which basically says that if the chemistry is there, the to-bang-or-not-to-bang dilemma "doesn't really matter." They argue that as long as you're cool, smart, and lovely, a man doesn't care/notice if you give it up after two margaritas or two months. I wasn't sure if I bought that, though, so I sought out eight couples who went head first to find out how it worked out for them. Are the chances of relationship survival really the same, legs open or closed?
Emily, 44, teacher
I met Joe twenty years ago, when I was 24. Our first date was in Martha's Vineyard, where he had invited me for the weekend. We slept together the night I got there. I wasn't worried I went too far, too fast, because I never believed in that kind of thinking. It never crossed my mind. I think I had a healthy approach to sexuality; I always looked at it as something that should be consensual and fun.The entire relationship and its progress felt natural and organic after that. It was all very simple and lovely, and I think that mentality was directly related to our pure and uncomplicated sexuality from the start. We had a sweet little beach wedding a year after we met. And we've been together ever since; we've been happily married for 19 years.
Nina, 34, nurse
I knew this guy peripherally through the hospital. Funny and charming, even if not the most handsome. One night we decided to hang out, and a few hours and few drinks in, I realized I actually really liked him. He made me laugh, and was really attentive, chivalrous, and genuinely interested in learning more about my life, family, and friends. "He really likes me," I thought, so why do the song and dance of three or four more dates before sleeping together. If it's inevitable, it's going to happen. I'm not shy, and wasn't into playing coy, so I whispered that he should come home with me.  He readily jumped in a cab. We had a great time and he even stayed a bit in the morning. A couple of days later, I heard he was having a barbecue and friends of mine were going … I wasn't invited and still hadn't heard from him. I texted him casually to say hello, and we made loose plans for the following week. We slept together a few more times, but it never went anywhere. All the effort came from me. I had set the precedent that I was doing the chasing, and think I just made myself too available (physically, socially, et cetera). Looking back, I'm convinced I made it too easy for him. No challenge. If wish I played it differently — at least then we could have actually dated and not just fucked meaninglessly a few times.
Liza, 27, TV producer
I slept with my fiancé on the first night, and I think it's the best thing that could have happened. During the drinks part of the date, I wasn't sure if he was mature enough for me; if he was a "boy" or a "man." When we started fooling around, he had so much sexual confidence that my entire impression of him changed. Plus, he had one of the most beautiful cocks I'd ever seen. That alone bought him a second date. If I didn't experience his raw, animalistic, super-horny side, I don't think there would have been a second date. And the rest is history: wedding this summer, after two happy years together.
Beth, 33, pastry chef
I went out with a new-to-NYC Aussie. He was hot, smart, successful. It was an OKCupid date — drinks and a movie. When I saw him, I knew it would be hard to resist hooking up with him later. I promised myself not to put that energy out there … at least for a few more dates. I'm really looking for a boyfriend. After we started making out in the movies, he randomly pulled out a condom. This was all mid-Gatsby. I was somehow charmed by that. We grabbed a drink after the movie and continued to sort of kiss and discuss the film, and all our shared interests in travel, art, and being young entrepreneurs. It felt real.
He asked to see my apartment because he was thinking about moving into a similar building (or something like that). We ended up hooking up hardcore in my elevator, then more in my hall, and before I knew it, we were in my bed. It felt too good to stop. He didn't call after that. I was sure he would. We had such great conversation and chemistry. I think the inappropriate fooling around ruined it – I mean, I practically blew him in my building's hallway. I guess, for him, the mystery was gone. I was no longer a sophisticated New York woman, but a slutty drunk lush.
Liza, 26, musician  
I am not about rules at all. I went out with this guy I met through friends. After seeing a concert in the park, I invited him over for some tea. Sleeping with him that night was a no-brainer — I had no neurosis about it. Unfortunately, I forgot that I had my period, and it was after about twenty minutes of sex that I realized, I had a tampon in. Things got surgical pretty fast. Awkward. If we were a real couple, we could have laughed, but this was too much. I never heard from him again. Oh well. I guess it proves you should know someone better before getting involved sexually, because there are repercussions. But it also proves that guy was kind of a dick.
Victoria, 39, author
When I saw him my heart stopped. He was the most beautiful man I had laid eyes on. We chatted for about twenty minutes over drinks and then we parted ways. As I walked away I noticed he and his friend were checking me out. After a few minutes, I wondered if I would see him again. Then he walked to meet me and – I am not sure what got into me – but I grabbed him and we started to make out in front of everyone. After we kissed, he suggested we go down the street to a more quiet bar. I couldn't believe what came out of my mouth next (since, I think, it was college, over fifteen years ago, when I last had a one-night stand): "How about my place?" We picked up a bottle of wine and condoms. The morning after he left, I didn't kick myself for sleeping with him twenty minutes after meeting him. I threw caution to the wind and he was fuckin' hot! I was actually pretty damn proud of myself. The rule I did keep was that I refused to let myself text him the next day. I didn't want to be that girl. Almost three years later, we live together and look forward to getting married and having children.
Rose, 40, stylist
The first time I had a real date with Chris, I knew it would be hard to resist him. I was already madly in love with him from some prior encounters, and I invited him over for dinner. I cooked him a real Sicilian meal, which I knew he would love, being that we are both Sicilian — lots of oranges, red onions, olives, garlic, not exactly the best set-up for good breath and romance, but the two bottles of wine I bought helped us forget anything bothersome. We shared a beautiful meal and then promised we'd take it slow so our lives around us could catch up (I was getting divorced, he was ending a relationship). The fatal mistake was choosing to still spend the night together, "to just sleep," arms entwined. After a few minutes of restless non-sleep, we shared our first kiss and decided to throw all promises to the wind. "Just fuck me," I said.
I really had never had amazing sex like that before — it was a combo of passion, love, and skill. After, he was hungry again. I made aglio e olio. I'm sure that sealed the deal. Next month marks four years. We are engaged and more in love than ever.
Anna-Maria, 25, painter
I always thought that either you have chemistry or not. To paraphrase from Samantha Jones, if he likes you, he'll call whether you fucked after a minute or a decade. This guy who was pursuing me forever, I finally went out with him. I got really drunk, really fast, and we slept together that night. Then he completely vanished. After all that chasing, he just disappeared! If I waited, he would have given me more respect. I could have roped him in for good.