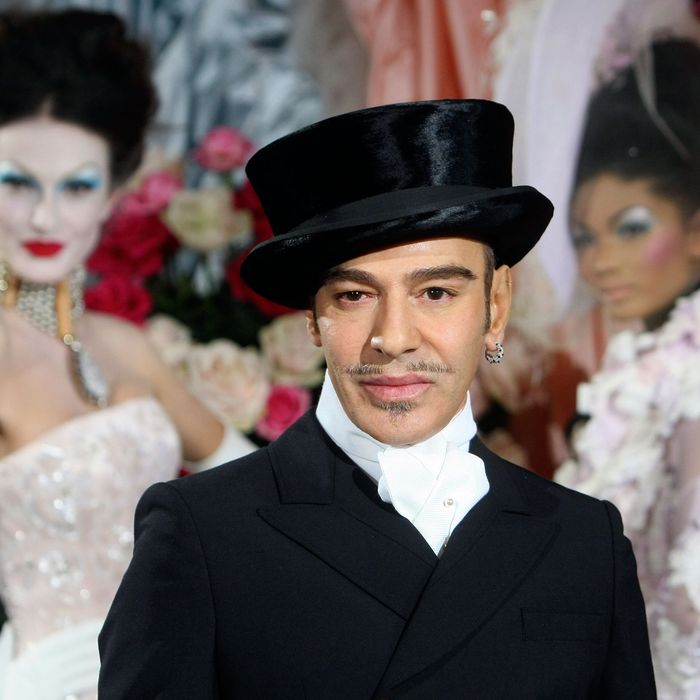 Galliano.
Photo: Jacques Brinon/Corbis
As previously reported, Galliano gave his first post-Dior interview to Vanity Fair's Ingrid Sischy for the magazine's July issue. An abstract of the profile — which also claims to be the designer's first sober interview, ever — came out online today. As expected, it's a sympathetic piece and portrays him as a recovering addict who deeply regrets the harm he's caused — but also seems ready to return to work. The full article isn't out yet, but here are some choice quotes from what's available.
He still doesn't remember his drunken anti-Semitic tirade, but he has seen the video.
My assistant told me about the video. When I saw it, I threw up. The feeling was like I was about to take a step out onto the street and a bus or truck whooshed past me and the blood was drained from my legs. I was paralyzed from the fear.
Why did he proclaim his "love" for Hitler, of all things?
It's the worst thing I have said in my life, but I didn't mean it… . I have been trying to find out why that anger was directed at this race. I now realize I was so fucking angry and so discontent with myself that I just said the most spiteful thing I could.
He no longer has a relationship with his replacement, Bill Gaytten.
Bill said, 'Do you realize what you've fucking done?… and I said, 'Kind of.' But I still didn't. I couldn't say yes. I just couldn't. And those were the last words we shared. That's someone I've known for 30 years. Even now I'm still learning every day how many people I hurt.
Galliano's superiors at Dior and LVMH attempted to intervene at least twice, but the designer refused to get help.
First, Sidney Toledano, C.E.O. of Dior, took Galliano to lunch and said he needed to get help. According to Sischy, Galliano turned the tables and suggested that Toledano should change his diet and eat more healthily. The second confrontation occurred when Bernard Arnault, chairman and C.E.O. of LVMH, and Toledano told Galliano he was going to die if he didn't do something about his problem. In response, Galliano tore off his shirt to reveal a gym-toned torso and asked, "Does this look like the body of an alcoholic?" Other friends told Sischy they wanted to intervene, but that in the end no one wanted to betray the designer, and that after a drinking binge, he'd seem fine again.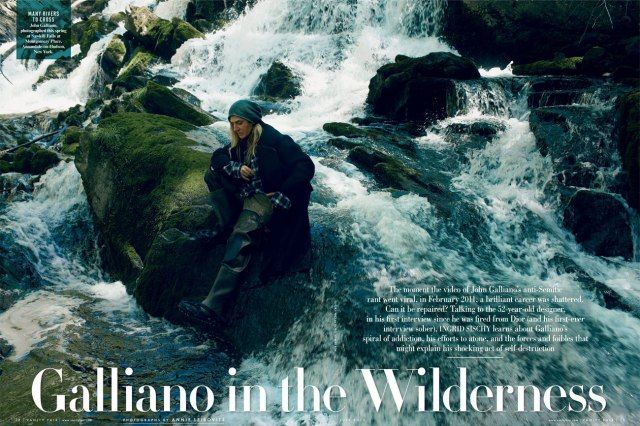 At his lowest moments, he'd lose entire days to drinking and pills.
Not having washed, I'd be covered in sores and humiliated… I had the tremors. I wouldn't sleep for five days. I would go to bookstores and get some self-help books, but I was in denial. I'd throw myself back into the gym. I'd be careful about what I ate. And, of course, the whole cycle would start again.
But now, he's trying to be optimistic, and he's ready to work again.
It sounds a bit bizarre, but I am so grateful for what did happen. I have learned so much about myself. I have re-discovered that little boy who had the hunger to create, which I think I had lost. I am alive.
And lo, step two of his very carefully orchestrated comeback has begun. Now we just need that tearjerker TV interview, for those who want to hear these words out loud, and he'll finally be ready for his runway return.