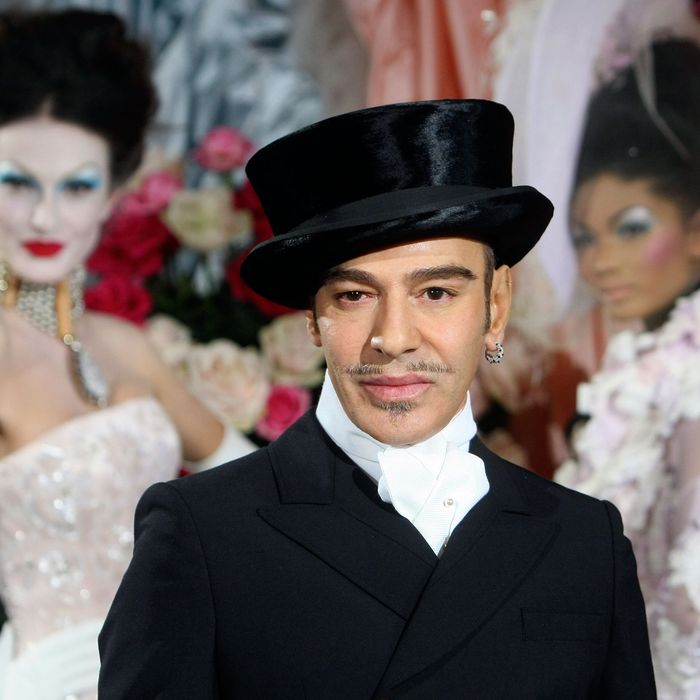 John Galliano.
Photo: Jacques Brinon/Corbis
The next stop on John Galliano's road to redemption: an hour-long TV segment with Charlie Rose, according to the designer's publicist, Liz Rosenberg. This confirms previous rumors that Galliano would pair his tell-all Vanity Fair profile (and self-professed first sober interview ever) with a television appearance, apparently to hammer home his sincerest regrets through as many platforms as possible.
Galliano's interview with Rose will finish taping on Wednesday, although a specific airdate has yet to be determined. And who set this up? Why, Galliano's fairy godfather, Oscar de la Renta, again! Galliano's publicist, Liz Rosenberg, tells WWD, "Charlie Rose has a very close relationship with Oscar … Oscar had been talking to John about the possibility of doing an interview with Charlie." Which, in turn, means Anna Wintour had at least something to do with it, too, by association. (Not only did she supposedly play yenta with De la Renta and Galliano, but she's also been interviewed by Rose before.) Anyway, this should certainly be a fascinating hour of television.
This step in Galliano's carefully orchestrated comeback plan comes just days after his harrowing Vanity Fair confessional hit newsstands, and several months after he dipped a cautious toe back into the fashion world with a "residency" at De la Renta's studio before New York Fashion Week. But what's next? If he really wants to design again, how will he start? Is he looking for a job — perhaps a permanent position with Oscar, who is supposedly looking for a successor? Or will he, as the Times' Cathy Horyn recommended last week, invest his own money in starting over from scratch? Perhaps even he doesn't know yet.