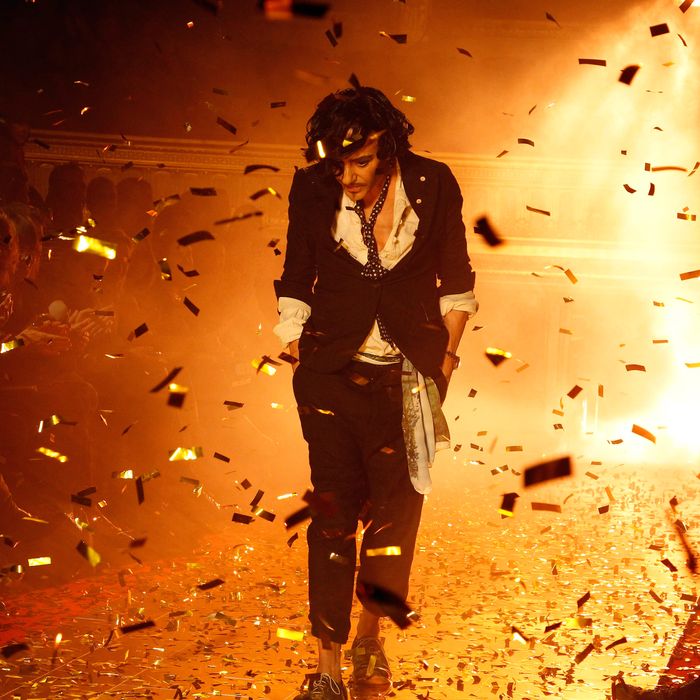 Photo: Eric Ryan/Getty Images
Last week, Galliano opened himself up to the public with a tell-all Vanity Fair profile, followed by a harrowing Charlie Rose interview. What did we learn? Galliano knows that he did inexcusable things, both on and off camera, and he's going to keep apologizing for them until he's forgiven. He also made it clear that he isn't ready to rush back into a design career, as he's still too busy making amends.
But exactly how much more does he need to apologize? Two years and three months after that disastrous night in Paris, he has expressed his deep remorse a total of seven times on the record and countless times in private. Will that be enough?
A complete timeline of his fall and subsequent recovery, in fourteen stages.
1. Initially, Galliano denies all charges of anti-Semitism.
February 25, 2011: Galliano's lawyer, Stephane Zerbib, denies charges that Galliano verbally accosted a couple at a Paris cafe: "[Galliano] formally denies the accusations of anti-Semitism made against him … [he] is not at all in this state of mind [and] will explain later … legal action will be taken against those making such accusations."
February 28, 2011: A woman comes forth wth the damning "I love Hitler" video, which was filmed earlier that month. Galliano's lawyer provides three witnesses stating that the designer never made anti-Semitic comments, one of whom is his chauffeur.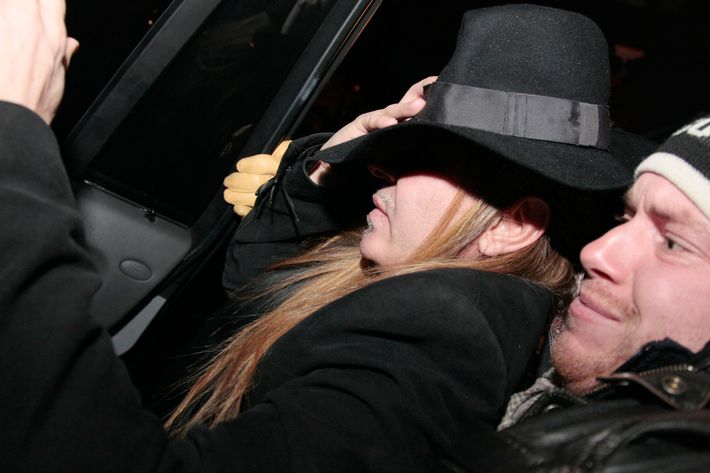 2. Until he couldn't anymore.
March 1, 2011: Galliano is fired from Dior. Sidney Toledano, Dior's president and CEO, states: "I condemn most firmly the statements made by John Galliano which are a total contradiction with the essential values that have always been defended by the House of Christian Dior."
March 2, 2011: Galliano leaves Paris to enter rehab at The Meadows in Arizona.
3. He issues his first apology via public statement the day after checking into rehab.
March 2, 2011: Excerpts from an official statement released by Galliano:
I completely deny the claims made against me and have fully co-operated with the police investigation … I must take responsibility for the circumstances in which I found myself and for allowing myself to be seen to be behaving in the worst possible light.

I only have myself to blame and I know that I must face up to my own failures and that I must work hard to gain people's understanding and compassion. To start this process I am seeking help and all I can hope for in time is to address the personal failure which led to these circumstances and try and earn people's forgiveness.

Anti-Semitism and racism have no part in our society. I unreservedly apologise for my behaviour in causing any offence.
4. A long silence follows.
March 5, 2011: Galliano's final Dior collection walks in Paris without him, with his whole atelier team taking a bow at its conclusion. Before the show begins, Toledano makes a speech on the runway in which he calls Galliano's actions and subsequent dismissal "a terrible and wrenching ordeal for us all … It has been deeply painful to see the Dior name associated with the disgraceful statements attributed to its designer, however brilliant he may be." Galliano later said that he called Bill Gaytten, his second-in-command, from rehab to give him some instructions before the show; Gaytten was furious with him, and they have not spoken since.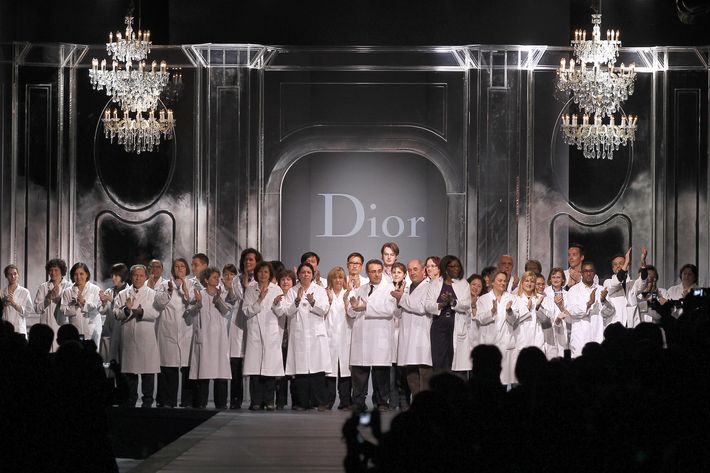 March 2011: Model Linda Evangelista is Galliano's first visitor in rehab. "I just didn't want that weekend to go by without anyone reaching out to him," she later told Vanity Fair.
March 10, 2011: A French court decides that charges against Galliano will go to trial, and his lawyer continues to defend him vigorously:
I have no explanation. It could happen to any one of us. Anyone can go to a bar, drink a little and get into a fight with someone … It's alcohol mixed with medications. You're very vulnerable when you're in this state. People who don't know the case can afford to say things and they all have opinions. It's easy to talk, criticize, be appalled. But these people don't know what really happened.
5. He ventures out of rehab a few times, but does not speak to the press.
April 11, 2011: Galliano is heckled by the paparazzi at LAX. A few days later, he is officially fired from his namesake label by his board.
May 3, 2011: Galliano fires his lawyer and subsequently sues him for allegedly stealing $4.1 million over the course of several years. He hires a new lawyer, Ms. Aurelien Hamelle.
May 2011: After two months at The Meadows in Arizona, he enters "after-care" at another treatment facility in Switzerland.
6. He apologizes publicly to the plaintiffs at his own trial.
June 22, 2011: Galliano attends his trial hearing in Paris, where he says he remembers nothing about the anti-Semitic statements he made and apologizes publicly to the plaintiffs, several of whom have already expressed their forgiveness.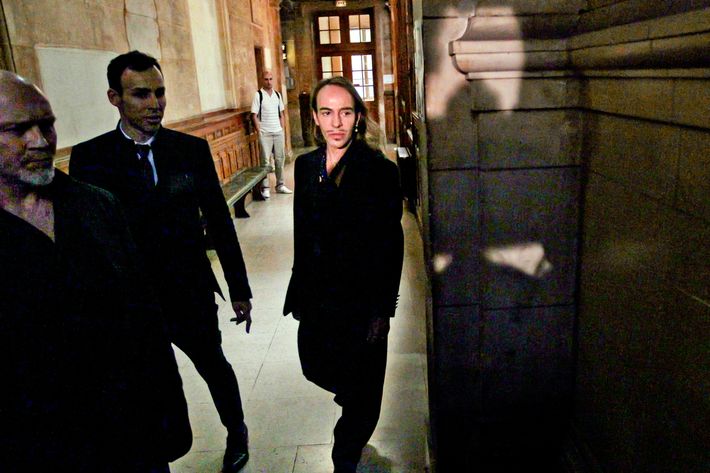 7. He goes to Kate Moss's wedding in the Cotswalds.
July 2011: He later described the experience of making Moss's wedding dress to Vanity Fair: "Creating Kate's wedding dress saved me personally because it was my creative rehab. She dared me to be me again."
August 2011: Vogue publishes a few quotes from Galliano in their report of Moss's wedding. He alludes to being in rehab, but the article makes no mention of his Dior dismissal. There's also a big two-page spread of him fluffing Moss's veil.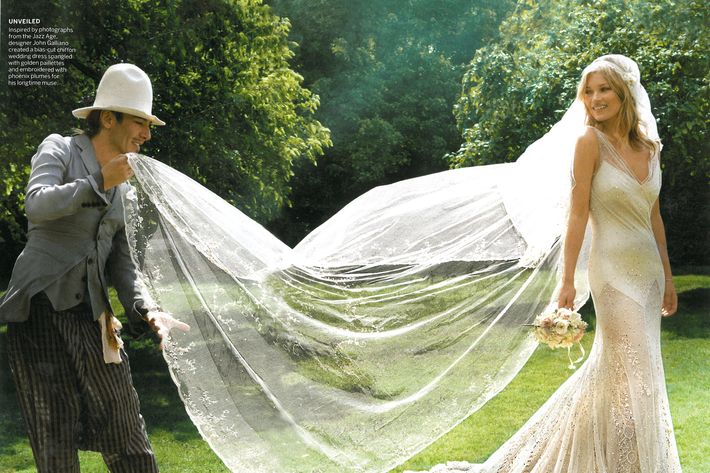 8. His trial concludes, although he is not present in court.
September 8, 2011: Galliano is found guilty and ordered to pay a fine of €6,000, but receives no jail time. Hamelle told the press afterwards, "Mr Galliano is relieved. Relieved that these eight months are behind him. He is looking forward to a future with understanding and forgiveness, hopefully, and to put all of this behind him."
9. A few random sightings suggest he's returned to some semblance of normalcy and is cozying up to just the right people.
March 5, 2012: He's spotted in his Paris neighborhood.
March 20, 2012: He's seen with Vogue editor Grace Coddington in New York.
July 5, 2012: Someone who looks like him has lunch with Anna Wintour at the Ritz in Paris.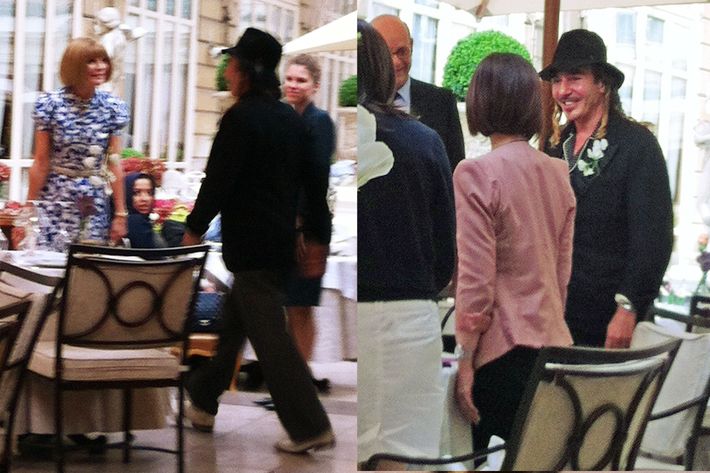 10. Almost exactly two years after his downfall, his comeback officially begins, helmed by Oscar de la Renta.

January 18, 2013: In an interview with WWD about his new residency at Oscar de la Renta's studio, Galliano apologises yet again:
I said and did things which hurt others, especially members of the Jewish community. I have expressed my sorrow privately and publicly for the pain which I caused, and I continue to do so. I remain committed to making amends to those I have hurt.
Meanwhile, the Anti-Defamation League gives him their blessing, paving the way for others to do the same:
We wish him much success and look forward to working with him again in the near future as a spokesman against anti-Semitism, intolerance and bigotry.
11. His month in New York has some highs and lows.
January 31, 2013: He's seen working in a corner at Oscar's studio.
February 12, 2013: He does not take a bow at the end of his collaborative show with Oscar de la Renta, but his presence is evident on the runway.
February 13, 2013: The Post puts Galliano on their front page with the headline "Shmuck!" and accuses him of "mocking" Orthodox Jews by "dressing like a Hasid to attend pal Oscar de la Renta's Fashion Week show in New York." He hires Liz Rosenberg, a New York-based power publicist.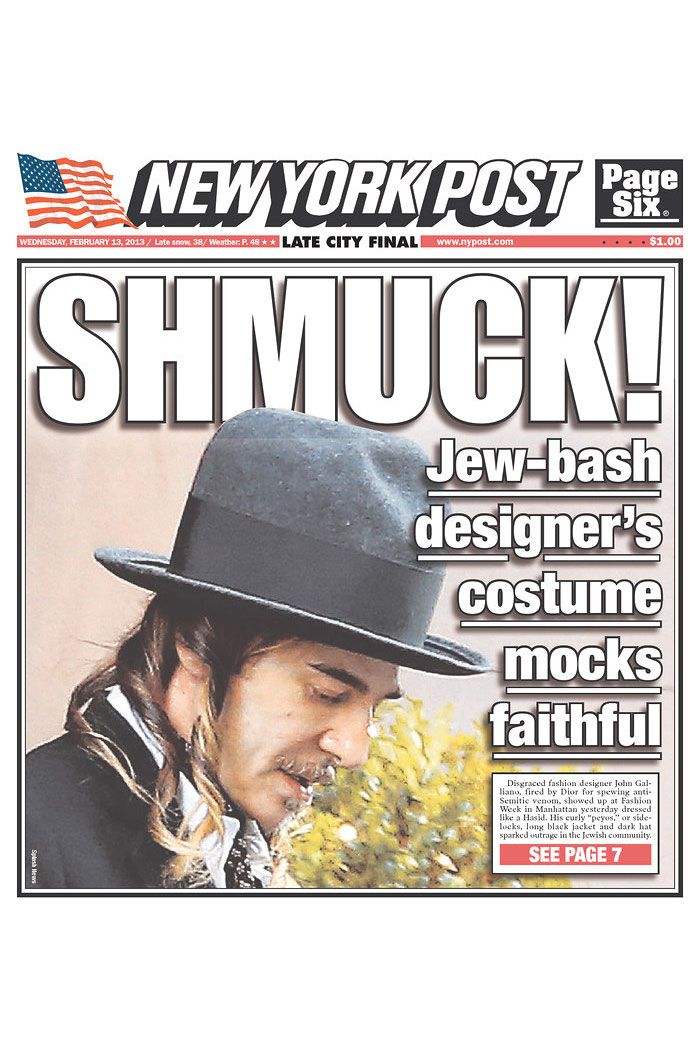 12. Galliano starts to stand up for himself.
March 14, 2013: His complex lawsuit against LVMH for how they went about terminating his many contracts gets a court date.
13. He tries — and fails — to land a teaching job.
March 15, 2013: He's seen "casually wandering around" campus at Central St. Martins in London.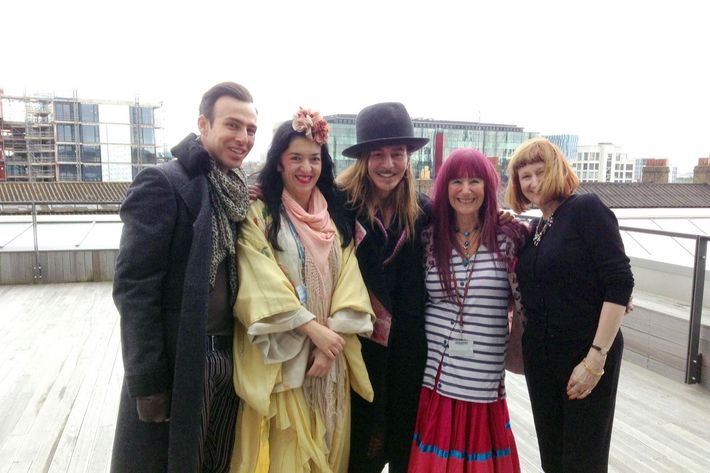 April 21, 2013: He appears on the schedule to teach a master class at Parsons.
May 7, 2013: Following a petition against his Parsons class, the workshop is abruptly canceled. According to a letter from school officials, apparently Galliano was unwilling to participate in a forum that would include a "frank discussion" about his career's "trajectory."
14. He makes himself available to select press to demonstrate his sobriety and remorse.
May 10, 2013: Vanity Fair reveals that Galliano has signed on for a juicy tell-all profile by Ingrid Sischy, which may explain his refusal to discuss his downfall at Parsons, as Condé Nast often has very strict exclusivity requirements.
June 4, 2013: The profile comes out, with the following quote: "It's the worst thing I've ever said in my life … but I didn't mean it."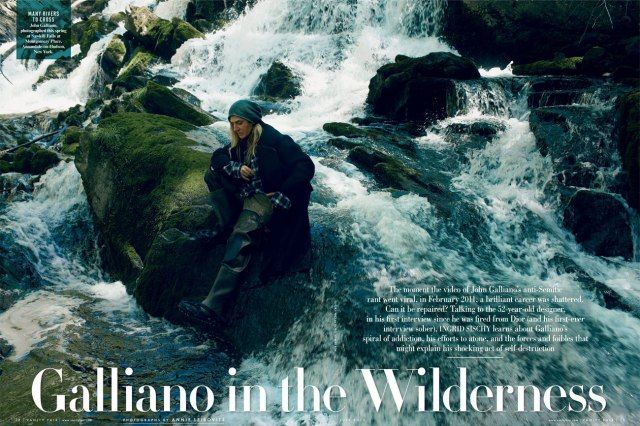 June 12, 2013: An hour-long interview with Charlie Rose includes the following exchanges:
Rose: You recognise that what you said was hateful, vile, anti-Semitic?
Galliano: I do. I apologise. And I am trying to make amends in the best way that I can …

Rose: Is it possible that you and Oscar will come together, and you will work out a collaboration so that you, a younger man than he is, can [take over someday]?
Galliano: That would be wonderful.
Rose: Is that what you want?
Galliano: Yes, but I know that I have to do this work before … the atonement … I can't ask for forgiveness … I think that's something that is bestowed to you. It's given to you because people think you deserve it … and if anyone has any ideas about how to make amends, please!
Does anyone have any ideas? Because these countless apologies through multiple formats do seem adequate. Sure, words are just words — some people need time to forgive. Galliano told Rose that when he reached out to Toledano, he was told it was perhaps a bit too soon. (Then again, Galliano is in the process of suing LVMH.) But after this tour of public remorse, it's evident that he has made every effort to redeem himself.
So, what's the next step? There's a strong chance he'll work with Oscar de la Renta again, perhaps with an eye on taking over the atelier some day. Others say he'll be eyed for other design jobs. He says he'd like to teach. Last week, Cathy Horyn wrote that if Galliano is to return to the design world, he should do so on his own dime rather than let another company invest in his leadership. But no matter what, Galliano has demonstrated that he wants to take it slow, as he should.