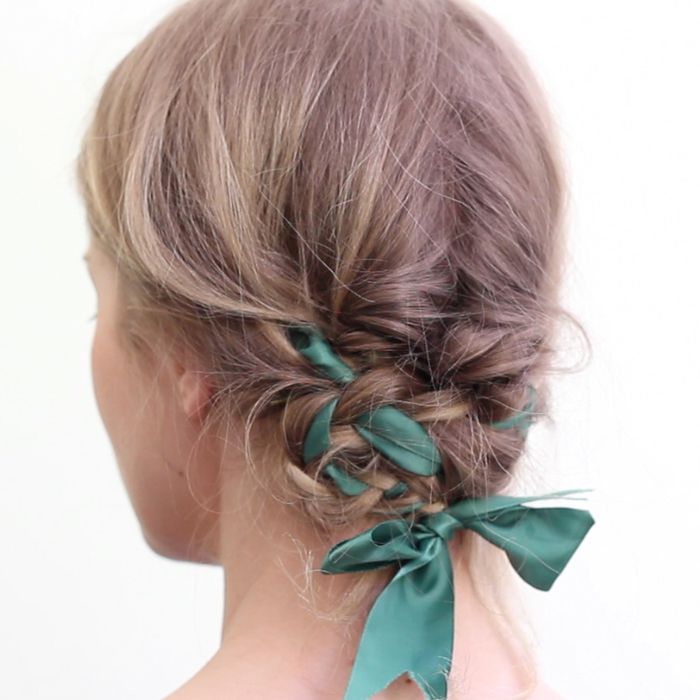 In a new series, hairstylist Wesley O'Meara helps us understand the art of hairstyling through step-by-step moving images.
Here, O'Meara walks us through a ribbon-woven braided look that his clients (like Oliva Wilde and Alexa Chung) have been asking for. The look is a lot less Game of Thrones–y and a bit more boho-meets-schoolgirl. All you need is a strip of ribbon five or six inches longer than your hair, some texturizing spray, and the ability to plait your own hair (or a buddy who's up for the challenge). 

Step 1: Create an imperfect center part for two low, pigtail braids. The more haphazard, the better.
Step 2: About midway down the hair shaft, tie the ribbon onto the middle braid section on either side of the head. Your braid will start where the ribbon is. Like the part, don't worry about keeping everything perfect.
Step 3: Braid both sections of hair.
Step 4: Secure the ends of the braids with an elastic. If there's an extra tail of ribbon at the end, leave it. You'll want it later.
Step 5: Go through the braid and give a few sections a tug to loosen the hair, so it looks a bit rumpled and messy. Pull at the ribbon as well to fluff up the plait.
Step 6: Haphazardly crisscross the now braided pigtails, using pins to secure the braids as your move across the head. This will give the look a more woven effect.
Step 7:  Tie the ends of the leftover ribbons in a bow.