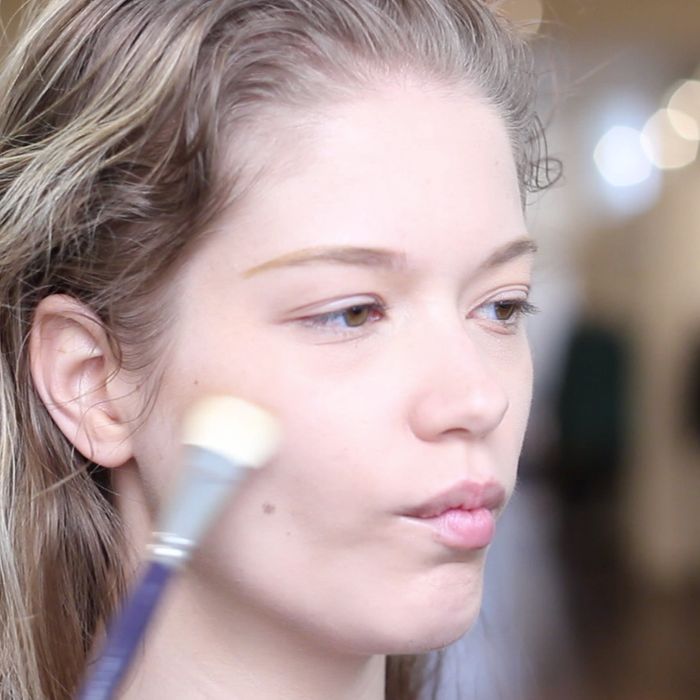 In a new series, makeup artist Daniel Martin helps us understand the art of makeup application through step-by-step GIF tutorials.
The best way to create the illusion of chiseled cheekbones is through the art of contouring. We're not talking about the power-makeup look of the eighties that Claudia Schiffer and Cindy Crawford owned, but instead subtle shading along the cheeks that every actress requests for any red-carpet moment. It's all about playing up the natural hollows and high points along your face.
While Martin opted for a Tom Ford contouring palette to create the "shadow" effect, you can choose any color that's slightly darker and ashier than your natural skin tone. He also opted for Becca Beach Tint, a cream blush, to finish the look; again, choose a shade and texture that works for you.
Step 1: Suck in your cheeks to locate the hollow of your cheek.
Step 2: Dip brush into the contour color and apply it along the hollow of the cheek up to the ear in swirling strokes.
Step 3: Tap brush or finger into a highlighter shade and lightly dab it along the highest point of your cheekbones and out toward the temples.
Step 4: Dab on a dot of cream blush onto the apples of cheeks, just above the contour color and below the highlighter.
This is what the finished look should resemble.