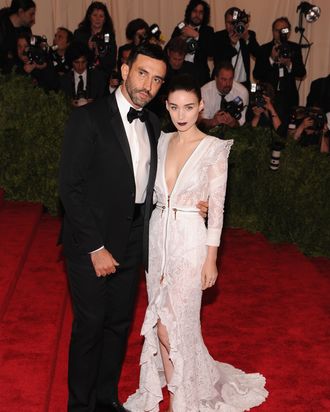 Riccardo Tisci and Rooney Mara.
Photo: Jamie McCarthy/Getty Images
Givenchy will skip the Paris couture shows again this season owing to designer Riccardo Tisci's crazy schedule, a spokesperson confirmed to WWD today. As you may recall, Tisci's been swamped this year, between co-chairing the Met Gala, dressing Beyoncé and Rihanna for various performances, designing ballet costumes, and accepting his CFDA Award. What's more, he's also reviving Givenchy's wristwatch collection, which was discontinued in 2009. In short, he's simply too busy to produce a collection that only a handful of individuals will buy, anyway.
This isn't to say Givenchy's couture line isn't thriving. Indeed, it's doing so well that it's actually expanding its atelier. Look at it this way: why should Tisci present all his custom designs in a single show, when instead he can just put them on his celebrity clients like Rooney Mara, Beyoncé, Madonna, Jessica Chastain, etc., and trot them out one-by-one on red carpets? The world still gets to see them either way.