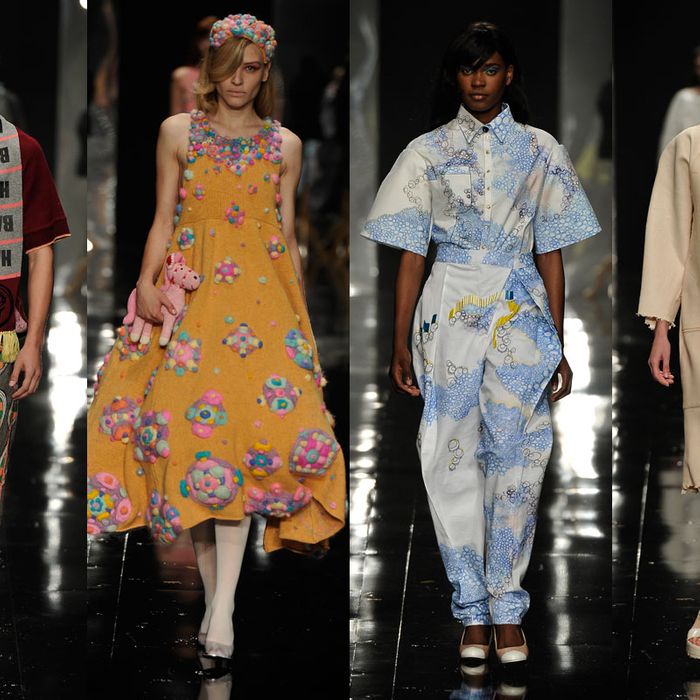 Photo: Courtesy of Graduate Fashion Week
London's Graduate Fashion Week came to a close last night, culminating in the Gala Show and Awards to honor the best graduate designers of the week.
The model David Gandy, looking as superhumanly handsome as ever, presented the Menswear Award to Edinburgh College of Art's Shaun Douglas and Olivia Creber. They had their photos taken with Gandy, but they weren't the first; preshow, an actual line of women formed while he patiently posed for snaps.
Todd Lynn presented the Womenswear Award to Hannah Williams of UCA Epsom, whose collection suggested serious potential. Designs that appeared to be made of rubber were embossed with trompe l'oeil details; one cream dress featured the outline of a coat, lapels, pockets, and jewelry in the same color. The effect was eerie and intriguing, but could also lend itself to a more accessible retail version. As Suzy Menkes said of the graduates, "What we're seeing here is controlled creativity."
The George Gold Award for best collection, along with a £20,000 (about $31,000) prize and the opportunity to design a collection for George at Asda, went to Lauren Smith of Edinburgh College of Art. Roland Mouret, who was on the judging panel, described her collection as "emotional" — it included a nipped-in boiler suit in a dreamy, delicate bubble print and abstract, embroidered separates. Previous winners of the Gold Award include Burberry's Christopher Bailey, so Smith should be one to watch.
There was also a Lifetime Achievement Award, presented by Hilary Alexander, who carried it onto the stage and announced, "You don't get bingo wings with one of these. It weighs a ton," before handing it to "my friend, long-term sparring partner, and fellow front-row veteran Suzy Menkes." Menkes, collecting her award dressed in a Dries Van Noten jacket, was quick to point out that "I've got lots of life to go yet."
The rest of the evening was dedicated to re-showing the best collections of the week. Jennifer Lowther of Northumbria University displayed a Henry Holland–esque sense of humor by emblazoning her men's streetwear collection of scarves, pants, and sweaters with the slogan "Have some balls." Chen-Yu Wang of Ravensbourne presented whimsical womenswear that seemed destined for Susie Bubble — including a rompersuit covered in knitted eyeballs and a pinafore printed with little houses. One model carried a knitted horse.
The gala tied up what has been four days of graduate shows and presentations. The hope is that some of the designers showcased will become the NEWGEN winners, Vogue Designer Fashion Fund recipients, and ultimately major talents of the British industry. The awards have been distributed, triumphant photos have been taken, and contact details have been exchanged; the rest is up to the graduates.
Click below to view the best of street style from Graduate Fashion Week.