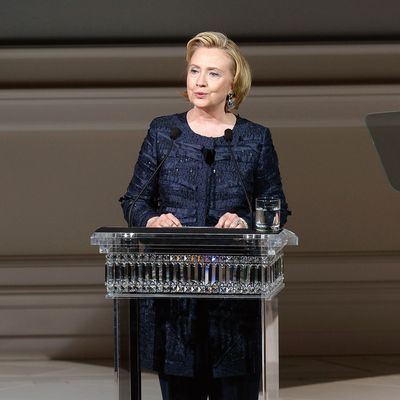 Hillary Clinton.
Photo: Theo Wargo/Getty Images
Before scooting off to Henry Kissinger's 90th birthday party, Hillary Clinton took the stage at tonight's CFDAs, where she presented her old friend (and frequent outfitter) Oscar de la Renta with the Founders Award. As expected, she was articulate and heartfelt, but she was also funny — she even cracked a joke about starting a reality show for pantsuit-lovers! Oh, Hillary. Read the full transcript of her speech, below:
It is wonderful to be back in New York, and here for this special event. I want to thank Diane, not only for her very kind words but for her leadership and friendship. I thank all of you for your leadership as well, and to the CFDA for this opportunity to honor a dear friend of mine.
You know, I have been thinking, now that I have some more time on my hands, I am going to be pitching Andy and others on a new show for Bravo, to fill that gap that is so apparent to some of us. All you really need is a small but passionate audience to be successful. We could call it "Project Pantsuit." We have all kinds of ideas. So just call me after tonight, Andy.

The reason I'm here is to honor a great American industry, all of you, and a great American designer. I was privileged to be a Senator from this magnificent state, and among my great pleasures was representing the fashion industry, because this is the capital of the fashion industry of the world, as you know so well. [Applause.]

And it is a special evening for me to join you in recognizing a great American designer and a great friend, Oscar de la Renta… I first met Oscar de la Renta in December of 1993. I was hosting, along with my husband, the annual gathering for the Kennedy Center Honors, and there was a receiving line in the White House. People were coming through and exchanging small talk and making pleasantries, and along came Oscar and Annette, his fabulous wife. So I reached out to shake Oscar's hand, and he looked me up and down, and he said, "That's one of my dresses." I said, "Really?" [Makes a nervous face.] I was then, as I am now, such a fashion icon myself. [Laughter.] So I said, "Really, well, I bought it to wear for this occasion." And he said, "Well, turn around." And I thought, "Oh my god, I'm being examined by Oscar de la Renta!" 

But it started a great friendship that has meant the world to me and to my family as we have spent time together, laughed together, and worked together over these past 20 years. 

The Founders Award, given in memory of Eleanor Lambert, the empress of Seventh Avenue, honors an individual who has made a unique contribution to the world of fashion. I really can't think of anyone more deserving than Oscar. Simply put, he is an American icon. His style and personality have permeated our culture and shaped the industry for decades. His name alone evokes elegance and timeless beauty, and his designs give each of us a chance like we're special too.

Experiencing the flair of Oscar as a designer is one thing. Going to his beloved Dominican Republic is something that just transports you to another level. His life, his work, his great immigrant story contributing to this magnificent melting pot, and the coming together of diverse ideas, cultures, and backgrounds really does make us who we are as Americans, and reminds us that we are so much stronger in our diversity.

As I have traveled around the world and really seen so many people making their contributions to try to make a better future, I know that Oscar performs not only on the runway with the models wearing his clothes, but in ways that maybe you don't know about. I remember very well visiting an orphanage that he started in the Dominican Republic, one that made such a difference to the lives of the children who he was giving a better start to than they would have ever had. That orphanage and day care center that he founded has really changed the lives of so many children. To me it was every bit as beautiful — walking through it and holding the children and watching him interact with them — as his finest designer gowns. 

Eleanor Lambert's motto was "Don't look back." Oscar de la Renta has spent his whole life looking forward, marrying classic style with contemporary edge and always working tirelessly on behalf of this industry he loves and serving twice as president of the CFDA. So for many reasons that you understand as well as I, please join me in welcoming our friend and a great American, Oscar de la Renta.