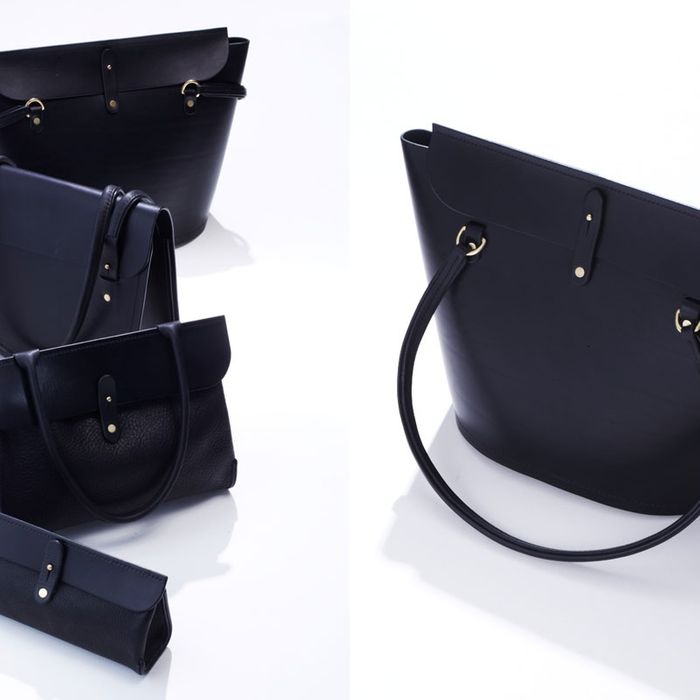 Photo: Courtesy of Mark Tallowin
In a gallery in Bloomsbury, London, 29-year-old leather craftsman Mark Tallowin has just finished washing Champagne glasses and is anxiously handing them out to his guests. Half the group are old friends, while the other half are his new contacts in the fashion industry. We're all here to see his new CORE collection of hand-stitched bags.
Tallowin, who is self-taught, has been making bags for less than two years. Before that, he was a tree surgeon and artist. He stumbled onto the process of hand stitching leather and became obsessed with training himself, learning to make bags and slowly building up a few clients. Finally he decided he was ready to spread the word about his business, and came up with a plan that he called the 4.4.8 experiment: He would make four bags and give them to four influential people in the fashion industry. After a week, each person would send him their feedback, then pass the bag on to a person of their choosing — and so on, for eight weeks. At the end of the experiment, 32 people have used his products, written about them for his website, talked about them, and taken them everywhere — and suddenly, from nowhere, Tallowin has a profile in the industry.
One of the first recipients of a bag — the Kettle Bell — was Guardian fashion editor Jess Cartner-Morley. "I'm very conscious of how hard it is for a new designer to make a consumer believe that something is worth a luxury price, so I was supportive," says Cartner-Morley. "I absolutely loved the bag. It is so beautifully made — the structure and the way it's balanced so that it holds its shape when you carry it. The leather is fantastic, too."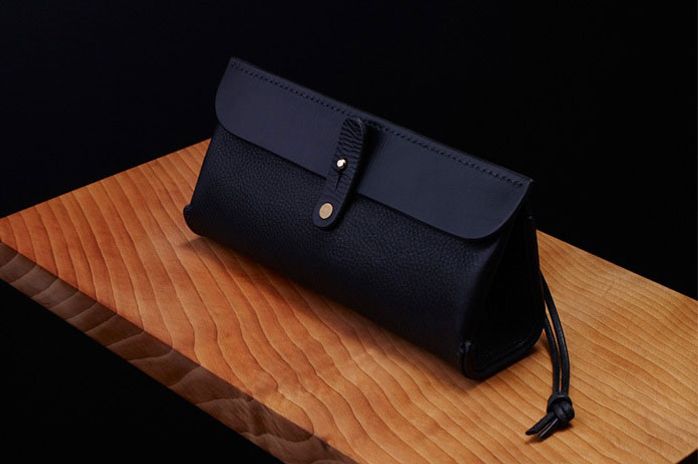 The bags, which range from £540 to £1,220 (approximately $840 to $1,900), are indeed beautiful. Inside they're unlined and raw, with the craftsmanship visible in the neat, exposed brass rivets.
Tallowin himself is a single-minded, highly energetic person — the kind of person who takes an interest in a skill, then won't give up until he's mastered it. An old friend of his gives me an example of his approach to life: "He once called me to say, 'I've made a pizza oven. Come over and make pizza.'"
The new designer spoke to the Cut about the experiment, his design principles, and why a bag should last a lifetime.
Tell me about the 4.4.8 experiment.
The standard way of getting the word out about a product is by producing samples and sending them to all the press. Ninety percent of them are going to be ignored, 10 percent will be taken seriously, and maybe 5 percent will be written about. Because my bags take two or three days to make, I couldn't afford that initial outlay, so I took a different approach — I made one of each of my four designs, which took a couple of weeks, and I handed them over to four individuals. These are people who are involved in the industry and who use bags every day. I tend to use pockets and backpacks, and as much as I trial a handbag myself, I'm never going to use it in the same way that a woman might. I asked each person to use their bag for a week, give me feedback that I put up on the 4.4.8 blog, and then pass it on to someone of their choice — so it became a self-selecting group of people. The bags found themselves going to New York, Latin America, the Scottish Highlands, admired by leather designer Bill Amberg [over lunch with Cartner-Morley] … and it's been fantastic. Now I have a huge wealth of feedback, but I also suddenly have connections.
It's a very simple idea, but ingenious.
I'm surprised at how much it's been talked about. I figured, market research and marketing are one and the same. You've got to create something that a certain group of people want, and you've got to get those people to know about it. If I ask somebody to use a bag for a week, they're going to have a really good understanding of it, and they're going to be able to give it to the one person who they think it fits best. That's brilliant, because it means it's gone to someone who's likely to love it, so in a way the participants are doing the hard work for me.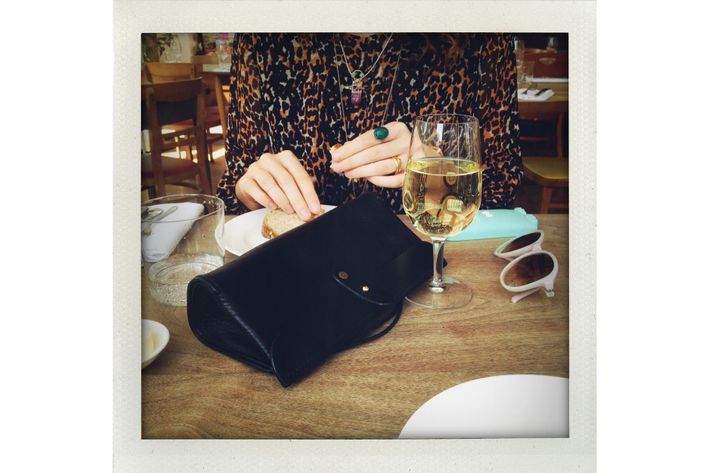 Has it produced useful feedback?
I was doing it to find out if there was room for improvement. Some of the closures looked fantastic, but the functionality wasn't as seamless as it should have been, so I've completely changed that. Each bag has had three or four major improvements and loads of little twists — moving things up or down by a quarter of an inch. Everything's been honed. They were gone for two months, being used every day, so I've brought them all home and I've really looked at how they've changed; how things have softened up, expanded, contracted. That's something you can only do when people are actually using the item.
You write on your website that there's no reason why a leather bag can't last for 40, 80, or 100 years.
These bags will last decades. As well as my main business, I also do repairs of other bags, as a way of keeping track of what other designers are doing. There are so many beautiful bags that have inherent structural faults, and they can never remove those faults because that would mean changing the design. What good is a bag if it's broken, or if you can't fill it because you're worried about tearing it? My bags are so resilient that hopefully they will never need to be repaired, but if they do, I make sure it can be done. That's not something you can say for a lot of handbags. Other brands tend to line them, which can hide off-key workmanship. I try to be very transparent about what I'm doing, where the stitching is, and what the construction methods are, so you can actually see how it all works.
How many bags are you making at the moment? What's the demand?
The demand is good, but we're talking small numbers because I work alone. What's really important to me is that each bag is made by one person from start to finish, from selecting the hides to boxing it up and shipping it. I have total responsibility: If there's a problem, it's on me, and any kudos when it's finally unboxed is mine, too. I'm also selling directly rather than going through a retailer, though that may change. I know I'm an underdog in the luxury goods world, but the link between the customer and myself is important. I invest so much time and energy into each bag, and from a customer's point of view a bag is such a personal, emotionally charged item. I think it's important to maintain that connection.
Have you thought about how you can keep that personal involvement but still grow the business?
I may train up an apprentice at some point, but I'm quite happy staying small. I think designers become very keen to say, "I'm turning over a huge amount and I'm stocked in 500 shops worldwide" — but then they become a manager in their own company. If I wanted to be a manager, I would have done something else. I love making handbags and I get a huge rush when a customer e-mails me to say, "I've just seen it — I love it." It's the biggest buzz.