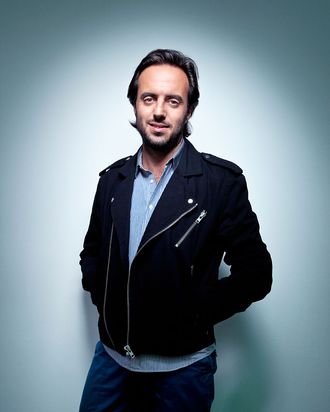 If you haven't browsed through Farfetch before, at first glance it just seems like a super-luxury e-commerce site full of things you can't find anywhere else. Then you click around and realize you can search by locations like Latvia, Andorra, New York, or Milan — in short, it's a one-stop shopping site that takes the merchandise from the world's most discerning fashion boutiques (who may or may not have sites of their own) and makes it available to anyone, regardless of geographic location.

Founder José Neves, who previously ran the international brand B Store, dreamed up Farfetch in October 2007. "I was in Paris for one of the market weeks, and it was a very depressing rainy day and everyone was complaining about their sales," he told us over the phone. "I noticed that the only people who were happy were the ones with very strong online operations. So I got the idea to create a platform for the best specialty stores worldwide so that they could do that. One year later, we launched."
Now, the London-based business has offices in L.A., New York, Portugal, and São Paolo, with full-time employees all over the globe constantly looking for new boutiques to partner with. "I get jealous of their jobs sometimes," he said of his scouts. "They just get to fly around and find cool things!" Next week, Farfetch will officially launch their partnership with Kirna Zabête, one of New York's most renowned independent boutiques. We talked to Neves about his company's next steps.
Is it ever difficult to get boutiques to sign on with you?
We are very selective, and we say no to dozens of boutiques every month. But some boutiques still don't believe that high-end fashion can be bought online — they don't get it. So many people say, "But do you guys really sell anything?" Or, "Are people really buying Stella McCartney online?" They're worried that people can't touch it, they don't know if it fits, or that they're afraid of putting in their credit card details. Stuff like that. Many of the stores we want, because they are the best stores, are very old businesses. They've been around 20, 40, or even 100 years, and they're traditional brick and mortar, so when the Web guys come knocking at their door, they're like, "What's this scary new world?" Normally it takes a few meetings for them to get to know us and understand that we come from the fashion world. We have to show them that we speak their language and understand their concerns. Once that psychological barrier is tackled, then it's actually quite straightforward.
Exactly how much of the logistics do you take care of?
We take care of everything for the boutique. Payment, fraud, customer service, photography, styling, and Photoshop. The only thing the boutique needs to do is pack the merchandise and wait for our DHL guy — and we even have the contract with DHL! They may eventually need to hire an extra person to pack the boxes, but that's a great problem to have, with dozens of boxes going out.
How do you convince a boutique that already has e-commerce, like Kirna Zabête, to integrate with Farfetch?
It opens up their business to new markets. For example, we now have an office in São Paolo, Brazil, and we have a local PR agency, a local marketing department, and local customer service. It's a completely impenetrable market otherwise. So we bring that global reach to these small boutiques who wouldn't otherwise be able to sell there. We're giving them additional exposure with customers that wouldn't find them normally.
How are specialty boutiques different from brands or department stores with e-commerce? 
Specialty stores buy differently from department stores. Kirna Zabête is in the middle of New York, so in order to succeed they must have a different viewpoint on the major labels, and scout out smaller labels that the big boys don't touch. Specialty stores, they take risks that department stores don't. I always say, they buy with their heart and not with their spreadsheet. That's the way they have survived for decades. Their curation is their biggest asset.